WGSN debuts new enhanced single technology retail platform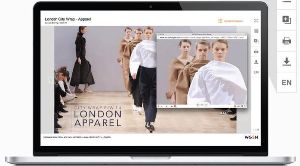 WGSN Group, the knowledge partner for the global style and retail sectors, launched the new WGSN, bringing together the former WGSN and Stylesight products onto an enhanced, single technology platform.

Bringing the two products together in a new, easier to use way was driven by a desire to provide the best possible service to customers, harness the best of both and ensure that one plus one equals three.

Robust research and customer feedback revealed their core needs and what they valued. This informed product and content strategy decisions and created a new WGSN that is genuinely better together.

The new WGSN provides:
− intuitive navigation and easy search functionality;
− a customisable homepage;
− enhanced catwalk content – gallery and analysis;
− a sophisticated suite of design tools, including colour play, high resolution zoom and clip functionality;
− 63,000 original prints and graphics;
− 75,000 usable CAD drawings;
− Significantly increased shareability.

Sansan Chen, SVP Product, WGSN and architect of the new WGSN said, "The new WGSN has been driven by a clear desire to delight, inspire and inform our customers. In bringing together WGSN and Stylesight, we were fanatical about retaining the unique and valuable aspects of each service.

Users can now enjoy a clean, modern site design featuring the archives of both sites and NEW brilliant content created by a collaboration of the most trusted voices in trend. WGSN's super platform – with easy navigation, powerful search, and time-saving tools – sets the highest bar for customer service and will enable future innovation with our customers' needs in mind."

The new product provides the same instant access to design and colour forecasts 2+ years ahead of each season. It also offers more than 350 monthly trend reports covering over 17 product categories; coverage of more than 1,300 catwalk shows and 150+ catwalk analysis reports per season, reporting on global retail, streets, city guides and over 200+ tradeshows every year, as well as a digital library of over 10 million hires images – all within an improved, highly searchable, robust technology platform.

Duncan Painter, CEO Top Right Group, said: "WGSN's business is based on making our unique and trusted content essential and easy-to-use for our customers. We aim to quickly surface content from our incredibly rich database, so users benefit from relevant information, clear analysis and insight. We have invested significantly in the business to ensure the new WGSN saves our customers time, helps them collaborate more easily and have complete confidence in the business decisions they make."

Another product in the WGSN Group, Homebuildlife, will also benefit from this fantastic new platform. Homebuildlife is the only site that offers in-depth global trend forecasting for the interiors, home and consumer products markets. Its customers will enjoy the same intuitive navigation and fast search when they consume Homebuildlife's outstanding content.