Consumers to make a fashion statement with PCs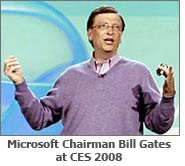 Three icons of the fashion world recently stepped out of the world of couture and catwalks to judge another sort of fashion show. Like most fashion shows, they paid close attention to the different designs colors, curves and overall aesthetic appeal of the models.

Some models were slim and square, others were more rounded. Some were clad in leather, and a few were lacquered. It sounds a bit odd, but in this case, the three "fashionistas" weren't judging clothing, they were judging computers in a high-tech fashion show staged at this year's Consumer Electronics Show in Las Vegas.

The PC industry is paying more attention to the aesthetics of their products this year as consumers are increasingly asking for more stylish, unique PC options to fit their lifestyle. To highlight the increasingly important role that fashion is playing in PCs, Microsoft asked three fashion industry leaders to pick their favorite PC designs. The three judges were Nigel Barker, top fashion photographer and a judge on the hit TV show, "America's Next Top Model," hip-hop trend setter and fashion innovator Tony Shellman and A-list fashion stylist and entrepreneur Misa Hylton. After considering 12 of the most stylish Windows-based PCs to hit the market in the last year, they each chose a favorite.

The three favorites, along with the several other high-style PCs, are on display in Microsoft's booth at the Consumer Electronics Show (CES), taking place this week in Las Vegas.