Delcam to show ArtCAM JewelSmith at JCK events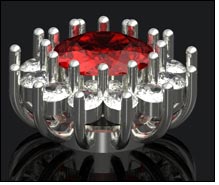 Delcam will demonstrate the latest version of its award-winning ArtCAM JewelSmith CADCAM software at the 2008 JCK events, the most comprehensive series of jewellery events serving the North America industry.

The JCK exhibitions will be held in Las Vegas from 30th May to 3rd June, in Toronto from 10th to 12th August and in Vancouver on 24th and 25th September. The new ArtCAM JewelSmith release offers improved ease of use, faster and more robust operations, and better interoperability with other software.

"The feedback from our customers was that ArtCAM JewelSmith already offered the tools they needed for fast and high quality design and manufacture of customized jewellery," claimed ArtCAM Development Manager Edward Powell.

"While they felt that the key to the software's popularity was its ease of use, we were sure that we could provide further simplification. We have moved a long way towards making ArtCAM JewelSmith even easier to learn and use with the current release."

The main change has been to the ArtCAM Project format that allows multiple components to be combined to create an intricate model. In earlier versions of the software, the models representing the individual components had to be kept as separate files. ArtCAM JewelSmith 2008 now allows multiple independent models, of differing size, resolution and materials, to be created within a single file.

In addition, a new Project Tree has been added to give an intuitive method of creating and manipulating the components within the overall design. This uses many of the standards and conventions of Windows Explorer to make learning and using the system straightforward and efficient. For example, components can be moved and copied between Projects simply by dragging with the mouse.