Launch of 3D TruCapture Kiosk Scanning System in conjunction with eFit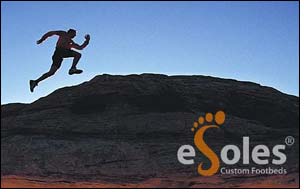 eSoles Custom Footbeds, the world's leading authority in the science and development of semi-custom and custom footbeds, announced the global launch of its state-of-the-art 3D TruCapture Kiosk Scanning System in conjunction with the unveiling of its eFit semi-custom footbed.

eFit is the world's first semi-custom footbed to be assembled in-store in less than 5 minutes following a scan of the consumer's foot by a kiosk scanning system, all for a suggested retail price of $69.99 (U.S.).

The global launch follows several years of development and sales of the company's flagship ePro custom footbed, which has helped improve the performance and results of hundreds of professional athletes.

eSoles' Pros include PGA tour player Mark Calcavecchia, international professional road cyclist George Hincapie, professional triathlete Chris Lieto, NFL linebacker Karlos Dansby, NASCAR and former Formula 1 driver Scott Speed, and over twenty of the current U.S. Olympic athletes.

"The eSoles 3D TruCapture Kiosk Scanning System is the first self-service kiosk in the world to allow consumers to utilize such sophisticated foot scanning technology in such a user-friendly way," said Glen Hinshaw, CEO of eSoles.

"Now with two footbed options, the eFit and the ePro, consumers have the choice of the ultimate semi-custom or custom foot support tailored to their budgets and needs.

No other product globally has the technology and options that eSoles will provide countless retailers looking to enhance their customer experience and sales."

Through their years of fitting people with ePro footbeds, eSoles has retained the largest database of foot images in the world, allowing it to perfect the development and science behind its eFit semi-custom footbeds.

By using its database and comparing it to scans that are performed by its 3D Kiosk, the patented eSoles technology can direct store personnel to construct an eFit semi custom footbed by fitting it with unique modular components that are tailored to the customer's foot.

Replacing art with science, the 3D TruCapture Kiosk Scanning System is the only one of its kind that scans the foot with a Bio-Dynamic air pillow to get a truly three dimensional scan and includes a touch screen computer monitor, a pressure mat, an air bladder foot receiver and a 3D image scanner and printer.

The self-service kiosk can be utilized in virtually any retail setting and allows consumers to receive a complex scan of their foot.

The kiosk then creates a personalized printout that the consumer can present to a participating retailer to purchase either an eFit footbed in less than five minutes or an ePro footbed within a week.

The ePro product is a fully customized footbed that the customer can order from the company's production facility in Scottsdale, Arizona, and receive within five to seven business days.

Pricing and Availability:
eSoles 3D TruCapture Kiosk Scanning System will be available for testing and purchase beginning July 28, 2008 at the WSA Show in Las Vegas.