Retaligent offers solutions for less than $1/day for retail industry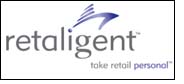 Retail software company Retaligent Solutions, Inc. ("Retaligent") announced two new programs designed to address the challenges retailers face when buying, deploying and managing enterprise Clienteling and Assisted Selling software. These deployment options are in direct response to current capital constraints being experienced across the retail industry. They provide retailers with cost effective alternatives to traditional perpetual licensing and maintenance models, while maintaining the security of "behind the firewall" customer data security.

"As footfall decreases, retailers everywhere are searching for ways to increase traffic, improve conversion & transaction size, and differentiate their in-store customer experience", said Bryan Amaral, Retaligent President and CEO. "Clienteling is a proven way to improve store performance, particularly in a down economy. We are responding to current needs by providing new low-capital entry points for retailers that produce immediate tangible results", he said.

Both options employ Clarience 1:1TM v.3.0, Retaligent's enterprise-class Clienteling solution for POS, PC and PDA mobile devices. Clarience 1:1 is designed to help retailers accelerate the chain-wide adoption of various retail best practices that will ultimately result in increased sales, improved margin and noticeable associate productivity gains. Retaligent also provides a host of integration adapters and configuration methods. This makes it possible for a retailer to be up and going with the solutions in a matter of days and not months.

Retaligent's new Managed Clienteling Appliance, "Indigo", is built for small and medium sized on-premise deployments that want the benefit of a vendor supplied and managed environment. For a small monthly subscription fee, Indigo includes the entire server hardware, mobile devices, application software & maintenance, and infrastructure support services that a retailer needs to get started with Clienteling. Retailers may add additional users and devices to their Indigo environment as their business grows.

The "Enterprise Subscription" option provides the same Clarience 1:1 application software and maintenance services found in Indigo, without server infrastructure and mobile hardware. The Enterprise Subscription has a lower per user fee and like Indigo, provides an almost immediate ROI. An Enterprise Subscription is appropriate for larger deployments with on-premise IT support and retailer-managed data centers.

"Retaligent's Indigo and Enterprise Subscription models are aligning the cost of implementing a Clienteling solution with the benefits that are realized by deploying it", said Amaral. "We are seeing meaningful business improvement across all our existing customers and when an investment of less than a dollar per day per associate can make a big difference to comp store sales, it becomes a pretty simple case for ROI", he said. The company will continue to offer pre-paid perpetual software licenses in addition to these new programs.