Skye reduces stock-count cycle from two weeks to two days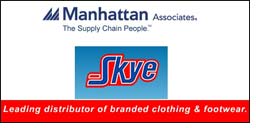 Global supply chain optimisation provider Manhattan Associates announced that Skye Group, the distributor of clothing and well-known footwear brands including Converse, Dickies and Millé, has achieved significant productivity benefits following the implementation of Manhattan ILS: Integrated Logistics Solutions, built on Microsoft.NET, at its new distribution centre (DC) at Crown Mines, Gauteng in South Africa.

The deployment, which has involved the integration of Manhattan's solution with Skye's existing ERP platform, Microsoft Dynamics AX, has provided the footwear and clothing specialist with an advanced supply chain solution capability that both complements and enhances its ERP system.

Following the system's demonstrated success for the footwear side of Skye's business, the distributor has already begun to roll out the technology across its clothing business as well. Skye has already improved picking accuracy and order processing speeds and has reduced the time taken to perform stock counts.

Manhattan's solution went live following an implementation led by South African supply chain consulting specialist Supply Chain Junction. With Manhattan ILS replacing a paper-based system, productivity improvements have been particularly dramatic. Instead of having to physically enter a warehouse to ascertain precise stock location and availability, this information is now instantly available through Manhattan ILS.

Skye's warehouse managers are able to pre-plan order-picking requirements and to balance resources against sales orders, resulting in a far smoother and more efficient use of time and labour.

The time required to manage stock-taking has reduced dramatically. Under the old paper-based system, a count could take anything up to 12 days.

Now Skye takes only two days to conduct a complete count and expects further reductions. Radio-frequency (RF) scanners from Psion-Teklogix complementing the Manhattan solution, along with new racking and Material Handling Equipment (MHE), have also contributed to improvements in the way Skye manages its stock.

The solution has also improved the order fulfilment process. Picking accuracy and speed have both improved materially, and Skye has introduced the practice of 'cross-docking,' meaning some goods are shipped in and out of the distribution centre in a very short period of time without being put away to storage. Compared to an initial average order cycle time of three days, 80% of orders are now despatched within 24 hours.

"We implemented the system during our busiest time of the year," explained Bibs Dalpat, Skye's director of operations and logistics. "We had a challenge on our hands as many people were entirely new to this type of technology and required training, but we managed it with the help of Supply Chain Junction and Manhattan Associates."

"We are now streamlining processes and beginning the work of extending the solution's use to our clothing business. I can only see positive things as a result of this implementation."