Kornit to present Direct-On-Garment technology at Fespa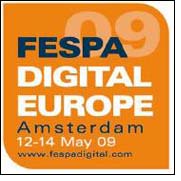 Fespa Digital 2009 is the largest and most exciting event for the digital print and services market and presents the industry with unparalleled business development opportunities. Fespa Digital 2009 will be held on May 12-14, 2009 at Amsterdam, Holland, Booth No. H70.

Kornit will showcase its exceptional line of high-speed industrial digital inkjet printers featuring the company's incomparable Direct-On-Garment technology. Among its exhibits: The Kornit 931DS dual-pallet industrial digital inkjet printer and the Kornit 932NDS single-pallet industrial digital inkjet printer for high-volume production at full speed. Moreover, Kornit will demonstrate for the first time its new innovative feature for unparalleled printing on dark polyester applications!

Kornit's live-demonstrations will be conducted during all exhibition hours, demonstrating marvelous process color prints on a wide range of finished garments, together with the new QuickP Designer RIP!

Kornit Digital Ltd.