Vivarte renews IT contract with Atos Origin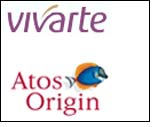 Vivarte, a leading footwear and apparel retailer, and Atos Origin, one of the world's leading information technology services companies, have extended their managed IT operations partnership for an additional five years. The decision reflects a shared commitment to deepening the contribution of the Vivarte Group's data processing capabilities to the market success of its retail banners.

The contract spans the same scope as the existing agreement, under which Atos Origin has run the entire Vivarte information system since 2001. The partnership covers the supply and operation of the mainframe information system, management of 135 distributed servers and 1,000 workstations, plus user support and administration of the Local Area Network linking three Vivarte sites. Atos Origin also manages 2,400 POS terminals for the various Group banners, providing hotline assistance and support for cash register systems.

The new agreement reflects the almost continuous optimization of the service delivered by Atos Origin teams since 2001. A high point in the two companies' trusting relationship was reached in October 2008, when they decided to transfer mainframe computing resources to Atos Origin's new European data center in Essen, Germany.

"This contract extension confirms the value delivered by seven years of fruitful collaboration, that have enabled us to consolidate our IT resources while efficiently meeting increasingly demanding business and quality objectives," explained Hilda Coppin Finkelstein, Vivarte Chief Information Officer. "Today, with the migration to the Atos Origin data center in Germany, we know that our IT system can seamlessly accommodate growing transaction volumes without requiring any increase in processing power. What's more, the responsiveness of our Disaster Recovery Plan (DRP) has been cut to just four hours, compared with 24 hours in the previous agreement."

"By making Vivarte one of our first French customers to transfer operations to our Essen data center, Atos Origin has again demonstrated the expertise and efficiency of its global data center network," adds Philippe Van Haecke, CEO of Atos Origin Managed Services in France.

Vivarte, a leading footwear and apparel retailer, has more than 4,000 stores under 24 names around the world and it employs 17,500 people. Vivarte's retail banners include Caroll, Chevignon, Kookaï, Naf Naf, André, San Marina, Minelli, La Halle o Chaussures, Chaussland, etc.

Atos Origin is an international information technology services company. Its business is turning client vision into results through the application of Consulting, Systems Integration and Managed Operations. The Company's annual revenue is EUR 5.5 billion and it employs 50,000 professionals in 40 countries.

Atos Origin S.A.