Microsoft to drive IT penetration into SMEs: Mr Sodhi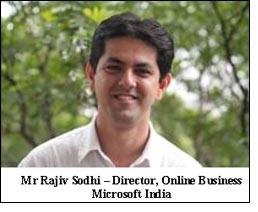 Microsoft- a company that positions itself on rank three in world's best known brands, is all set to become the favorite but affordable IT solutions provider for small and medium enterprises too. Under its hand in gloves project 'Vikas' with NMCC (National Manufacturing Competitiveness Council), Microsoft India has recently brought out a range of Business Solutions for various SMEs, kicking off with solutions for textile manufacturing cluster in Tirupur.

In a chinwag with News team at Fibre2fashion, explaining the rationale behind this project, Mr Rajiv Sodhi, Director, Online Business at Microsoft India, shares "One of the big initiatives that we have within Microsoft is to drive IT penetration into SMEs; the reason why this is important is that IT is the biggest force in driving productivity and competitiveness of manufacturers. We've been working on this project for last two years, wherein we have been studying how SMEs work, what all are their IT requirements like, and what sort of purchasing behavior they would go for when they look at IT for solutions. It was in this regards, we wanted to launch a couple of solutions that will really aid them enhance productivity. That is the basic rationale behind launching IT solutions for SMEs. And, Tirupur is the first cluster that we have gone to with these solutions."

Further narrating the idea behind going for cluster based approach and Tirupur as the first privileged place for introducing these solutions, he mentioned-"When we started VIKAS project – a joint project between Microsoft & NMCC (National Manufacturing Competitiveness Council), we followed the cluster based approach because in India, the manufacturing sectors are generally organized in these clusters of SMEs, which have the same business challenges and same opportunities. So the idea behind selecting clusters was that it offered a healthy set of SMEs that had fairly the same sort of solutions' requirements. To begin with, being suggested to us by Ministry, we selected Tirupur as it is really the place where the project 'Vikas' was initially coined. Ministry too would probably have chosen it because Tirupur is one of the largest clusters in India."

Continuing the talk, Mr Sodhi, nodding on our query if the solutions would be available to places other than Tirupur too, said"We are going to take these solutions to other clusters as well. The project 'Vikas' has done its activities in around 10 clusters across India including Tirupur, Ludhiana, also some Pharmaceutical clusters where Hyderabad and Ahmedabad play a part, for Automobiles- Puna, Jamshedpur and Chennai etc. They are some of the clusters for whom we are working on their problem areas and would take these solutions to them."

He also told that right now Microsoft is focusing on providing the basic solutions that cater to the communication and collaboration needs of SMEs. The solutions announced for Tirupur includes a) Hosted Messages - where company can get complete email calendar contacts and basic communication needs through a hosted solution provider b) Hosted Desktop that will basically give a space in the cloud. Where company executives can store documents, can share and message them, and company need not to buy licenses for this software, and c) Hosted Communication Server that provides voice and conferencing capabilities so that executives can interact with others at very low cost.