New Diamino V5R4 offers rapid optimization function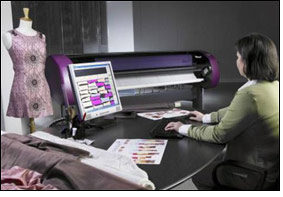 Lectra, the world leader in integrated technology solutions dedicated to industries using soft materials textiles, leather, industrial fabrics, and composite materials , is pleased to announce the new version of Diamino, its marker-making solution.

With Diamino V5R4, Lectra introduces new enhancements for manufacturers seeking simplicity, speed, and efficiency in markermaking and material consumption optimization activities, during the costing, prototyping, and production phases.

To overcome economic challenges and competition, manufacturers have to constantly improve their competitiveness by offering their customers high quality, creative products at a reasonable price. Material represents a significant portion of the cost to make finished products.

"Buying material is now a major expense for manufacturers in the fashion, automotive, and furniture sectors and for companies that use industrial fabrics. Marker-making is therefore a key lever for evaluating and guaranteeing the profitability of a product at a very early stage and improving its cost price. The time savings, streamlined processes, and material optimization offered by Diamino V5R4 give our customers a competitive edge. This advanced technology solution is fully integrated into Lectra's strategy of meeting the specific needs of each market," explained Daniel Harari, Lectra CEO.

Greater simplicity and marker optimization for material consumption, prototyping, and production Available as DiaminoFashion (fashion), DiaminoFurniture (furniture), and DiaminoTechTex (automotive, composites, and industrial fabrics), Diamino V5R4 maximizes marker-making for all pieces. It also optimizes material consumption at the development and production stages, using two different methods depending on the material to be cut and the complexity of the model. Interactive marker-making is based on a manual method, while automated marker-making is managed entirely by Diamino and its powerful algorithms. These two methods can also be combined for more intricate markers.

Further material savings with the Optimizer function
Diamino V5R4 offers a new rapid optimization function for existing markers, enabling manufacturers to save an average of 1% in material over a significant number of markers. The Optimizer function can be used on both markers created interactively and markers created very quickly in automatic mode. It is also highly useful to manufacturers working with lists or batches of markers. The function can improve the efficiency of each marker in under a minute.

Guaranteed material savings when nesting notched pieces
Manufacturers can now combine marker efficiency with quality of cut on internal notches. Diamino V5R4 ensures significant material savings by providing a protection area around internal notches only.

Time saved through simpler fuse block processing
In parallel with main-piece markers, it is important for fashion manufacturers to be able to improve efficiency and productivity when nesting fuse blocks. Fuse blocks gather into one section the pieces that will be fused with fusible interfacing, an invisible fabric which is more complex to handle but which strengthens the garments being produced. With Diamino V5R4, these pieces are easy to recognize and assemble quickly, an activity that can prove particularly time-consuming.