Manufacturers to do more, get more from Windchill 10.0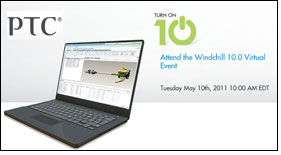 PTC, The Product Development Company, announced the release of Windchill 10.0, the newest version of PTC's product lifecycle management (PLM) software. With the latest release of Windchill, PTC is enabling manufacturers to do more throughout the product lifecycle, know more about product performance and get more value from PLM.

"Customers are constantly telling us about the escalating complexity of product development driven by manufacturers' focus on increased product differentiation, an explosion in the volume of regulatory constraints, continual quality pressures, the realization of service operations as a significant profit center, and heightened sensitivity to the environmental impact of product operations," said Brian Shepherd, executive vice president, product development, PTC.

With new capabilities that focus on product analytics and quality management, Windchill 10.0 allows customers to more effectively define, manage, and validate complete bills of material (BOMs), providing linkages across domain-specific views of product structures throughout the entire lifecycle. Windchill 10.0 also includes a new user experience and improved system administration, making it easier than ever to use and maintain and enabling broad adoption.

Windchill centrally manages all product deliverables including MCAD, ECAD, documentation and service information. Windchill 10.0 unifies its ECAD data management capabilities to offer a common user experience, consistent with its existing approach for MCAD data management.

For many companies, significant business value is derived from aftermarket services and parts. To ensure highly profitable maintenance, repair, and overhaul organizations, the processes of service and spare parts planning must be concurrent with product development. When combined with CreoTM for 3D illustrated and animated service instructions and parts lists, and Arbortext for technical communications creation and delivery, Windchill will support a complete, integral service information solution.

PTC has long advocated that business improvement is enabled by process excellence. With advances in top-down-design and configuration management, and efficiencies in interference management, Windchill 10.0 supports business process optimization in many areas, but most notably for Detailed Design, Variant Design and Generation, and Verification and Validation.

"The many new configuration capabilities in Windchill 10.0 will give our users much more power and flexibility in managing products," said Terry Gimbre, Engineering Manager, Thales Communications, Inc. "This supports our commitment to continuous process improvement and enhances our ability to deliver high quality mission critical products on which lives literally depend."

With Windchill 10.0, PTC's Relex and Insight product lines have been rebranded as part of the Windchill product family to better reflect their availability as both astand-alone offering as well as part of a comprehensive Windchill solution.