Two new responsibly crafted materials for outdoor sector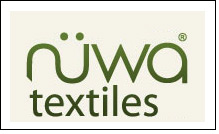 Nüwa Textiles [nu-wa], one of the largest weavers in the world, is leading the way in setting new standards in cleaner textile production, announces two new textile solutions for outdoor fabric applications. The First is, NuWAX, naturally water resistant and durable, the second is NuAG (Ag = Silver), a silver yarn blended with synthetic fiber for inherent anti-bacterial, anti-static, and deodorizing properties.

NuWAX – Uses a unique paraffin wax finish, a naturally better, stronger and water resistant solution. Wax is one of the earliest performance finishes applied to fabrics providing water and weather resistance over long periods of time. This updated finish of a wax offers a rugged retro look to the fabric. It's been tested to be free of heavy metal, and passes the European REACH standard. Optional NuHyde, Polyurethane, or TPU backing offers even greater waterproof protection and durability on the back.

Most waterproof materials on the market right now have polyurethane based coatings. NuWax combined with a waterproof finish on the back is the best solution for durability, waterproof performance and ideal design aesthetics. The market these days utilizes, and is looking for more 'natural', retro, and earthy options to incorporate in their products, NuWax will give a designer the best of both worlds to work with.

The best usage for this material is: bags, packs, jackets, or any material designer that is looking for a natural, rustic and seasoned look on a performance fabric. The fabric is offered in a variety of creative weaves that many have come to expect of Nüwa.

"Most of the wax based fabrics on the market right now limited to cotton canvas materials. Hence the performance factor is not quite there. We try to combine the best of both worlds," explains, Nüwa CEO- Michael Shih.

NuAG-Silver fabric is our latest solution for bag liners, travel cases, pack liners and the like in a material that utilizes the inherent natural fiber qualities which are anti-bacterial, anti-fungal, and deodorizing. Silver fibers have been used in textile for three decades. Silver-coated fibers were introduced for use in antistatic rugs which proved essential to prevent sparking in hospital operating rooms. Electrical sparks present a danger amid oxygen-rich areas. The antibacterial characteristics of these fibers were soon put to use in a variety of applications for the military, clothing, performance gear, industrial products and fabrics.

Nüwa believes silver can be used in bag liners as well, providing anti-bacterial, anti-static, and deodorizing properties, all without chemical additives. These properties are embedded into the fabric itself, therefore they will last for the life time of the fabric.

They will not be washed out, or leave harmful residues to the contents of the bag. It's natural anti-static properties even adds a layer of security to electronic compartments in the bag in static prone conditions, this fabric is deal for world travel, travel companies, outfitters and the like.