Macy's enjoys best spring & quarter in a decade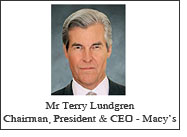 Macy's Inc. reported earnings of 55 cents per diluted share for the second quarter of 2011, ended July 30, 2011. This represents a 57 percent increase in earnings per share from earnings of 35 cents per diluted share in the second quarter of 2010. Sales, operating income, net income and cash flow all exceeded expectations in the most recent quarter, as well as in the first half of 2011.

"This was our most successful second quarter and spring season in more than a decade. Importantly, it came on top of an impressive first half performance last year. To date this year, we have driven significant additional sales growth, gained market share, maintained strong margins, managed expenses and generated a very healthy level of cash," said Terry J. Lundgren, Macy's, Inc. chairman, president and chief executive officer. "We have moved quickly to establish a culture of growth at Macy's, Inc. since reorganizing the company in 2008 and 2009, and yet we feel we are just beginning to take advantage of the benefits we envision.

"All of our key strategies are working - and working in unison - to help us better understand our customers, deliver the assortments and value they want and expect, and engage them in stores, online and via mobile devices with a shopping experience that is convenient and compelling. Our Macy's and Bloomingdale's brands are continuing to evolve, testing new ideas and developing the extraordinary level of talent and expertise within our company. All of these factors have helped us to overcome an economic environment that remains sluggish. As we continue to closely monitor developments in the economy and financial markets, we are cautious but optimistic about this fall and are staying focused on those factors we can control," Lundgren said.

For the first half of 2011, Macy's, Inc.'s diluted earnings per share were 86 cents, an increase of 115 percent compared with earnings of 40 cents per share in the first half of 2010.

Sales

Sales in the second quarter totaled $5.939 billion, up 7.3 percent from total sales of $5.537 billion in the second quarter of 2010. On a same-store basis, Macy's, Inc.'s second quarter sales were up 6.4 percent.

For the year to date, Macy's, Inc. sales totaled $11.828 billion, up 6.5 percent from total sales of $11.111 billion in the first 26 weeks of 2010. On a same-store basis, Macy's, Inc.'s year-to-date sales were up 5.9 percent.

Online sales were up 40.2 percent in the second quarter and 39.2 percent in the first half of 2011. Online sales positively affected the company's same-store sales by 1.2 percentage points in the second quarter and 1.3 percentage points in the year to date. Online sales are included in the same-store sales calculation for Macy's, Inc.

The company opened no new stores in the first half of 2011, and reopened a Macy's store in Warwick, RI, following flood damage in 2010. The company closed a Macy's furniture gallery in San Antonio, TX, and a furniture clearance center in Naperville, IL. Both businesses were transitioned into nearby Macy's stores. In the second half of 2011, the company is opening three new Bloomingdale's Outlet stores, as previously announced.