Dockers launches new look with new range Alpha Khaki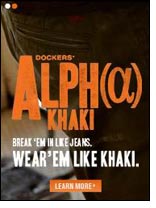 Dockers Alpha Khaki is truly a first of its kind. Built from a dress pant block using denim construction, it is the pant that has the same attributes a man loves about his favorite jean: attitude, style options, versatility and individualism.

"This khaki stands for conviction, it is for the new generation of men who would like to stand out from his jean-wearing friends", said Bobet Romualdo, ASEAN brand director. He added, "The Alpha Khaki can replace your jeans and be just as versatile".

The Dockers Alpha Khaki is 'the new generation of khaki for the next generation of men'; it illustrates how a dominant khaki brand can evolve into a khaki that is very different from what has been the traditional khaki. Even venturing to propose to let go of your favorite jeans for what is possibly a new favorite pair of pants, with its unequivocally modern make.

It is essentially for the men who wish to gravitate towards a more casual look but with the feel and versatility of wearing jeans.

Dockers Alpha Khaki features an inseam and out seam over lock stitching, heavier khaki fabric that wrinkles and wears like a jean. It is a trimmer khaki through the leg. It gives you the feel and strength of a pair of jeans, with the look and finish of khaki.

The new collection features all forms from color, textures, abrasion qualities that reflect the character of a man and his khakis. It continues to explore khaki finishes and color with a broader assortment, some finished for you and some finished by you.

It introduces a raw khaki to be broken in by the wearer. It has three different finishes/washing that can give the khaki a 1-year, 5-year or even 10-year old look.

For the more refined khaki user, the Scraped (1Y) finish with light hand sanding can be his choice. To get a more 'worn' finish, the Dirty (5Y) with hand sanding, nicking and grinding is the best choice. And the finish that says, this pair of khakis been 'lived in', the Destroyed (10Y) finish, that is destroyed with rip and repair/staining finish fits the bill.

"Dockers Alpha Khaki will come in range of 3 finishes and 17 colors, and we believe it will appeal to younger and trendier men", said Ms. Rhea Akil, Dockers senior marketing executive. "Dockers Alpha Khaki is the best alternative to jeans. With more contemporary fit, finish and color, it creates more 'character' for the man who chooses to be different", she added.

The introduction of the Dockers Alpha Khaki comes in time with the Fall/Holiday Collection of Dockers. It is a collection that is inspired by 'a journey to uncover what it means to be a man today'. It is a conscious attempt to feature the work of men, who lived their passions and have chosen conviction, character, commitment and purpose, as words they live by.

The Fall/Holiday collection also offers a more 'slimmed up' fit and now offers the slimmest fit that is D0 or what Dockers calls as the Razor Slim. It is the most modern expression of slim for a youthful, fit-obsessed consumer.