Brands and buyers report optimistic mood at Moda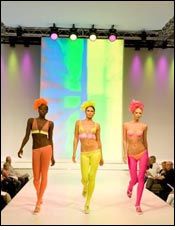 Exhibitors and visitors at Moda, the UK's largest trade fashion exhibition, reported an optimistic mood across the halls at this season's event, following three days of strong sales at Moda's womenswear, accessories, menswear, lingerie & swimwear and footwear shows which took place on 14-16 August at the NEC Birmingham.

Featuring an enviable selection of new brands and seeing the launch of three new product zones the event once again attracted key independent and department store buyers from across the UK and Ireland, including the likes of John Lewis, Debenhams, Arcadia, Fortnum & Mason, Brown Thomas, Fenwick Ltd, Arnotts, House of Fraser, Bentalls and Hoopers, as Moda's new product zones, each of which featured a large number of brands not previously seen at the show, were well received by both buyers and brands, with business at Moda White at Moda Woman, Moda Lingerie & Swimwear's Moda Rouge and new urban menswear and footwear area Select performing beyond expectation for many exhibitors.

Contemporary womenswear zone Moda White featured first time appearances from labels including Mille K, Eva Tralala and Eliza and Ethan. Marc Lee, European representative for Eliza and Ethan, comments, "This is our first time at Moda Woman and the show has performed incredibly well. With 15 new accounts, we've seen key independents from both the UK and Ireland. Moda White is a great concept, and we look forward to seeing it grow with the addition of further contemporary brands."

Select, located on the border between Moda Menswear and Moda Footwear, featured many new arrivals including Rocawear, Superga, Bjorn Borg and Farah 1920. Neil Hughes, brand manager for Rocawear says, "As a first time exhibitor we came with an open mind, and we had a really great reaction to the new collection. We had a very strong three days, and Select was absolutely the right place for us, with the right mix of menswear and footwear brands."

Moda Rouge at Moda Lingerie & Swimwear brought together the event's largest selection so far of specialist, niche and designer names, with new arrivals here including Damaris, Mimi Holliday, Being U and Dirty Pretty Things.

Being U launched its new season collection of nude underwear for ethnic skin at Moda, and received a great response from retailers. Sadia Sisay, founder of Being U, says, "As always with any product development there has to come a time when the product has to speak for itself. Thanks to Moda, our products have been given a platform to do just that. This was very obvious from the amount of people that visited the stand and their reaction to our brand. For us Moda has been the perfect platform to launch to trade in the UK as there has been a huge variety in attendees."

With the current economic climate still at the forefront of the minds of many, the feeling of hope continued to be felt across many areas of the show. Roy Barnes, Managing Director of Alba Associates, distributors of lingerie brands including Gottex, Gideon Oberson and Marjolaine comments, "Due to the economic situation we did approach the show with a cautious mood but that soon disappeared as the volume and quality of buyers that we saw completely exceeded our expectations.