Apparelsourcing première a big hit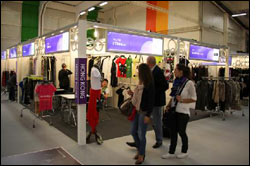 "We'll be back in February" was the unanimous response of apparelsourcing exhibitors and buyers to the successful première of the fair in Hall 1 of the Paris Le Bourget Exhibition Centre, which was held concurrently with the Texworld fabric show in Hall 2.

The 127 international exhibitors from many different countries, including Turkey, China, France, Germany, Belgium, Tunisia, Portugal and Haiti, were satisfied with their sales and the contacts made during the four-day event.

On the visitor side, buyers were satisfied with the variety of products from the 'apparel and accessories' sector, and with the range from near (Portugal, Tunisia and Turkey) and far (China, India, Haiti).

Olaf Schmidt, Vice President Textiles & Textile Technologies of Messe Frankfurt, explains: "Messe Frankfurt is very pleased with the successful debut of apparelsourcing. The new fair will strengthen the development of the group and means we now cover the entire supply chain." Buyers, mostly from Western Europe, the USA and Canada, were delighted with the range of finished products and accessories for men, women and children.

The China Council for the Promotion of International Trade (CCPIT-TEX), which has been working with the Texworld fabric show in the clothing segment for several years, was particularly well represented. Mr. Du Yuzhou, chairman of China National Textile and Apparel Council and Mr Lin Yunfeng Mr. Lin Yunfeng, Vice-Chairman of CCPIT TEX attended the fair and confirmed that the Chinese exhibitors would be taking part at the next apparelsourcing in February 2012.

Stéphanie Keukert, General Manager Texworld, and Marie-Armelle de Bouteiller, Director of Texworld and apparelsourcing, explain: "Following the success of apparelsourcing in New York, we are looking forward to developing this new Messe Frankfurt brand in Europe."

Exhibitor business relationships with Texworld developing well
Texworld and apparelsourcing are closely related not only in terms of the fields covered but also chronologically and spatially. Thus, business relationships between exhibitors are developing very well.

Brands or countries that make finished products but do not have any local raw materials or accessories are interested in working with fabric and accessory manufacturers to give their business a boost. Thus, the availability of a wealth of such resources concentrated together at the same time and place facilitates their research work. Moreover, this combination of events gives weavers the chance to develop their own finished-product collections in cooperation with manufacturers.

Successful conference on 'The new geography of sourcing'
Many buyers – more than 60 – attended the conference on 'The new procurement geography'. Given the continuous process of development in the sourcing nations, as well as the new fashion cycle, price increases and the assurance that collections will be delivered punctually, this conference was held at exactly the right moment.