Uniqlo opens Fifth Avenue flagship store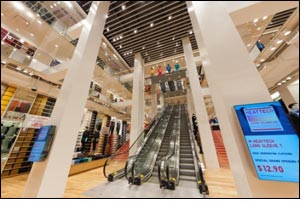 Manhattan, known throughout the world as one of the best shopping mecca's in the world, welcomes two new flagship locations from Japanese retailer UNIQLO; The first located at 666 5th Avenue at 53rd Street and the second at 31 West 34th Street between 5th and 6th Avenues.

At 89,000 total square feet, the UNIQLO New York Fifth Avenue store will be the largest single retailer on Fifth Avenue as well as the largest UNIQLO store in the world. UNIQLO New York 34th Street comes in at an impressive 64,000 total square feet. These two locations will be UNIQLO's second and third stores in the U.S. and are the largest globally for the brand. UNIQLO successfully opened its first global flagship store in New York's SoHo district in 2006 and remains one of the best performing locations for the chain worldwide.

To staff the new stores, UNIQLO began the hiring of more than 1,300 new U.S. employees in April of this year. Fifty of these new employees embarked on a 6 month manager training program where they were flown to Japan to learn the true essence of UNIQLO in the country where it began back in 1984. UNIQLO is currently looking for an additional eighty candidates to undergo the same manager training program this year.

Both opening at 12:00PM, UNIQLO New York Fifth Avenue will officially open to the public on Friday, October 14th followed one week later by UNIQLO New York 34th Street on Friday, October 21st.

Technology is fused together with raw materials such as glass, oak and steel at both UNIQLO New York Fifth Avenue and UNIQLO New York 34th Street to create a chic modern shopping experience. Together with the help of longtime design firm partner, Wonderwall, the brand will unveil the model for future UNIQLO flagship locations. Both locations will feature the best in technology with a combination of LED and LCD screens throughout the store, hand held inventory checking devices, custom made spinning mannequins showcasing UNIQLO style and more.

As it did for the opening of the SoHo store, UNIQLO once again brings together a world-class team of creative minds to realize the best customer experience possible from store design to product layout to visual technology to customer service. Customers can shop from a complete offering of UNIQLO product from men and women's basics; to Heattech, Ultra Light Down and colorful Cashmere; to the Jil Sander collaboration, +J, which will have a larger shop in shop sitting on the second floor.

UNIQLO Founder and Chief Executive Officer Mr. Tadashi Yanai says, "The opening of our global flagship store in the heart of Manhattan marks our fundamental commitment to the future growth of UNIQLO in the United States and crystallizes our Made for All philosophy. New York City is one of the greatest cities in the world, and we are proud and excited to be able to serve all New Yorkers with this store."

A 360-degree marketing blitz began in July celebrating the brand philosophy "Made for All." The campaign features a mix of 'real' New Yorkers who move the city forward and continue to make it great. A total of five stationary pop-up shops sprouted up all over the city and six glowing UNIQLO Cubes travelled around the city landing at street fairs, city events and festivals throughout the summer and early fall. Additionally, unexpected street teaming, partnerships and untraditional media vehicles have created a UNIQLO citywide takeover.