Womenswear & Youth profitable categories - Myer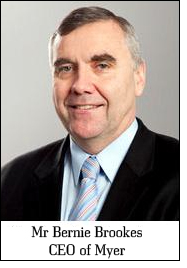 Myer Holdings Limited (MYR) reported first quarter total sales for the thirteen weeks to 29 October 2011 of $681.4 million, down 3.5 percent compared to last year. On a like-for-like basis, sales were down 5.1 percent compared to last year.

Total sales excluding rationalised Electrical categories (whitegoods, movies and music, gaming, consoles, GPS and MVM brand), were down 2.7 percent. Our decision to rationalise our Electrical offer continues to impact sales, however these decisions are expected to result in sales from higher margin categories as floor space is reallocated. The range rationalisation is expected to be completed by the end of 1H FY2012.

The key categories of Womenswear and Youth continued to be the strongest performers during the quarter.

In October we opened our new store at Mackay in Queensland which has had very pleasing trading during the first four weeks and already has over 16,000 MYER one customers. Construction at Townsville (Queensland) is progressing well and the store is scheduled to open inthe second half of 2012.

The Liverpool (New South Wales) store refurbishment is on track to be completed by Christmas 2011 and the Carindale (Queensland) refurbishment has commenced and is expected to be completed by April 2012.

As part of our focus on becoming a leading omni-channel retailer, the first phase of our website rebuild is underway with some improvements already implemented. Our online sales continue to grow with our customers responding well to our offer of free delivery on most merchandise. We anticipate delivering the next stage of improvements by March 2012.

Myer Chief Executive Officer, Bernie Brookes, said that while the trading environment during the first quarter continued to be challenging, the result was in line with our expectations.

"Pleasingly, as the quarter progressed sales gradually improved against last year," Mr Brookes said.

"Myer Melbourne recently won the World Retail Award for Best Store Design and is trading well up on last year. We have also been especially encouraged by the positive customer response to our new store in Mackay," he said.

"We welcome the recent interest rate cut as we head into the critical Christmas trading period. The whole team is focused on ensuring our stores are well presented with merchandise to inspire our customers to 'Jump In' and see what we have in store for Christmas," he said.

"With our significant investment in store wages and service training we look forward to providing our customers with an improved level of service in our stores. We are also confident that our customers will respond well to our new Summer ranges as well as our reinvigorated Stocktake Sale commencing on Boxing Day," he said.

Outlook
Our guidance remains unchanged. Assuming no deterioration in trading conditions, we anticipate FY2012 sales to be flat and net profit after tax (NPAT) to be up to 10 percent below FY2011 NPAT of $162.7 million.