Gas unveils EBO in Ludhiana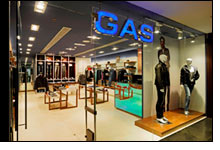 Ferozepur Road - the Mecca of all shopping opportunities in Ludhiana witnessed the launch of a 900 sq. feet GAS exclusive brand outlet housing the Autumn Winter 2011 Collection.

The new EBO is in addition to those already existing in Delhi, Mumbai and Ahmedabad. Alongside, GAS is available in 16 corners and 3 shop-in-shop formats distributed in the most important shopping districts of India.

The company has chosen Ludhiana as it represents one of the most charming destinations for eager tourists and dedicated shoppers.

With a modern day approach to historical and traditional items, Ludhiana is vastly growing as one of the hottest destinations for shopping in India. Ludhiana is as modern and stylish as Delhi and its people are willing to splurge on style.

The design of the new store is based on the "ESSENSUAL" concept, the perfect mix of 'essential' and 'sensual'. This term sums up the brand philosophy evolution, adding passion, warmth and an international flavour to the original GAS values: positivity, freshness and authenticity.

The concept is based on maximizing the uniqueness and spirit of the space itself and is aimed at creating synergy with the brand through the use of its distinctive elements like the denim container, an attractive and practical décor element designed to display GAS' core business in the most aesthetic way.

GAS will open one more store this year in Pune, and aims to open twelve retail stores within the next three years. In addition to its stand-alone stores, GAS is also available in exclusive areas within Shoppers Stop in Mumbai, Bangalore, Hyderabad, New Delhi, Kolkata and Chennai and Kapsons in Delhi, Ludhiana, Patiala, Chandigarh, Jalandhar and Jammu.

The development for distribution will continue through the following months with additional exclusive areas in different cities across the country.

The GAS Autumn-Winter 2011 collection, which will be launched at the new store, is the perfect combination of Italian taste and quality and is also representative of its remarkable expertise on denim: GAS's soul and DNA, the element that the collections revolve around.

Beside the BRANDING theme, the highest expression and evolution of GAS basics and its denim soul, offering GAS bestsellers reinterpreted with a contemporary twist, the 2011 GAS collection is divided into distinct themes that provide maximum versatility.

For her, the RHYTM'N'SOUL theme fully represents the urban, cosmopolitan attitude of GAS while the DJ SAVED MY LIFE theme is ideal for evenings and more glam occasions, suggesting little slip dresses in silk jersey or super slim fit pants and super-feminine gauzy, sheer tops with sensual lines and low necks.

The absolute protagonist of the women's denim collection is the SUMATRA second skin effect jegging, GAS bestseller, presented in different washes and treatments including an ultra feminine luxury interpretation and a completely reversible version.