The Performance Days shows solid cooperation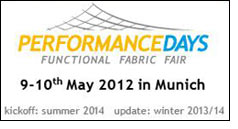 The most important trade fair for functional fabrics, PERFORMANCE DAYS, will begin its eighth round in May 2012. Always innovative and dynamic, organizers are again offering fresh, exciting novelties. In addition to the four fundamental themes for product managers and designers the trade fair showcases the most important functional innovations using the recently developed PERFORMANCE GATE, goes online 365 days of the year, and presents a collaborative design-project with ESMOD.

The eighth PERFORMANCE DAYS exhibition presents the latest trends in functional fabrics on May 9-10, 2012 in Munich. No longer just for insiders, the trade fair has become a mandatory, early stage event for all purchasing agents in the area of sportswear, workwear, and activewear - an event too important to be absent from the appointment calendars.

The trade fair will have a settled location now after beginning as a traveling roadshow: In May 2012 for the first time ever, Munich will be the only exhibition site. Event organizers took this step after holding discussions with exhibitors and evaluating visitor surveys.

Proof that Munich is also an international center of textiles and sports is supplied by the PERFORMANCE DAYS held there last November, which attracted visitors from as far away as the USA and Scandinavia who appreciate being able to combine several scheduled appointments in one city.

Even the visitors from Italy preferred Munich over Annecy. So, it is only logical for the trade fair to concentrate on Munich now and apply the newly available resources to new and exciting projects:

Expert presentations with DTB: The DTB (Dialog Textil-Bekleidung) was established in 1985 by the Willy Bogner company in Munich. Companies from throughout the entire textile supply chain come together here in working groups to study the issues and propose solutions to problems. Currently, the DTB has 185 member companies from 7 European countries.

Anna Nieß, CEO of DTB said: "We are connected by a large number of diverse topics and we look forward to this cooperation with PERFORMANCE DAYS in keeping with the motto 'Dialog Creates Partnerships,' because our project dealing with product assurance in the development phase is also relevant in the area of functional fabrics." As a part of this cooperation, the working group will present its most important results at each fair starting in May.

Four fundamental themes: By implementing a new four pillar strategy, PERFORMANCE DAYS once again strengthens its presentation profile and honors its reputation as the major functional exhibition for early stage supply chain products. Each trade fair will feature expert keynotes on the four lead topics: Fabrics, Trends, Technologies, and Sustainability.

"What other issues if not form, color, technology and environmental protection are driving our industry," said event founder Marco Weichert. The latest important content of interest to product managers and designers concerning each of these subject areas is presented at every round of the exhibition.