Fox-JEM-Awake to create Cameron's Avatar line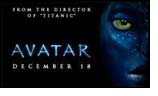 On December 18th, Twentieth Century Fox will release Academy Award-winner James Cameron's epic adventure Avatar. To support the film, Twentieth Century Fox Licensing & Merchandising (Fox Licensing) will launch one of its most innovative merchandising campaigns to date introducing more than 125 products across four key categories: video games, toys, apparel and publishing. Partnering with industry leaders Ubisoft, Mattel, JEM, HarperCollins and Abrams, Fox Licensing's line will push existing boundaries to extend the movie experience as never before.

"Avatar is truly a game changer with its groundbreaking advances that deliver a uniquely immersive cinematic experience," said Robert Marick, Executive Vice President of Licensing and Merchandising. "We've taken inspiration from the film to develop one of the most expansive merchandising lines in Fox Licensing history. We have taken its cutting edge technology and tried to incorporate the same innovation into the entire line."

James Cameron's Avatar merchandising line was developed in collaboration with the key creative drivers of the film. The hands-on approach from both filmmakers and Fox Licensing has enabled a seamless entertainment experience that extends the story and vision of Avatar beyond the big screen.

Beyond the video game, Fox Licensing's partnership with Mattel Inc. pushes the boundaries in product design by pioneering the latest technology in toys - augmented-reality - marking the first time this technology will ever appear in a retail toy product. Each action figure, vehicle and creature in the product line will come with a 3-D web tag, called an i-TAG, which consumers can "scan" using a home computer's webcam. Scanning the i-TAG will reveal special content onscreen unique to the corresponding product.

Exact content varies for each item, but could include biographical information, additional images and animated models of the figures. When the i-TAG for deluxe figures, vehicles or creatures are placed under a webcam, animated 3-D models will "come alive" through engaging, evading or defending moves. Place two i-TAGs from the "Battle Pack" together and the 3-D images will interact with each other.

In apparel, Fox Licensing has partnered with JEM Sportswear and Awake Inc. to create a line of t-shirts, sweatshirts and fashion tops for young men and older boys. The line will feature the amazing imagery and creatures that populate Cameron's world of Pandora. To expand upon the apparel line, Accessory Innovations has been tapped to introduce a line of backpacks and bags.

Fox Licensing will also extend the Avatar experience with five new books from Abrams and HarperCollins in time for the film's premiere. Abrams will introduce "The Art of Avatar: James Cameron's Epic Adventure" which features a foreword by Peter Jackson and an epilogue from James Cameron. As the only book to visually document this totally new method of filmmaking, the reader will get a behind-the-scenes look at this unprecedented movie-going event through interviews with the film's art directors, visual effects designers and animators, and over 100 exclusive full-color images including sketches, matte paintings, drawings, and film stills.