Nike launches environmentally-friendly football apparel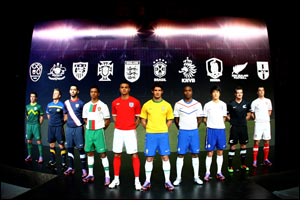 Many of the world's leading players, including Cristiano Ronaldo, Robinho and Ji-Sung Park will take to the pitch in South Africa this summer wearing the most environmentally-friendlyand technologically-advanced kit in football's history. For the first time, all of Nike's national teams, including Brazil, Portugal and The Netherlands, will be wearing jerseys made entirely from recycled polyester, each one produced from up to eight recycled plastic bottles. Nike unveiled the new national team kits with several footballers at a global media event at Battersea Power Station in London.

"This summer in South Africa Nike will give footballers an edge by providing the newest and most innovative product for the game's greatest players," said Charlie Denson, President, Nike Brand. "With announcement, we are equipping athletes with newly designed uniforms that not only look great and deliver performance benefits, but are also made with recycled materials, creating less impact on our environment."

To make the 2010 national team kits, Nike's fabric suppliers sourced discarded plastic bottles from Japanese and Taiwanese landfill sites and then melted them down to produce new yarn that was ultimately converted to fabric for the jerseys.

This process saves raw materials and reduces energy consumption by up to 30 percent compared to manufacturing virgin polyester. By using recycled polyester for its new range of national jerseys, Nike prevented nearly 13 million plastic bottles, totaling nearly 254,000 kg of polyester waste, from going into landfill sites. This amount would be enough to cover more than 29 football pitches. If the recycled bottles used to make the jerseys were laid end-to-end they would cover more than 3,000 kilometres, which is more than the entire coastline of South Africa.

The national team kits represent an important step in the process to make all Nike products more sustainable.

In addition, all the national team kits have been designed with each country's national culture and identity in mind. Nike understands the pride athletes experience playing for their country so each kit has been designed to represent the heritage and unique football culture of the nine national teams.

Kit Innovations

Considering the environment doesn't mean sacrificing the innovative performance elements of Nike's kits. For this summer's finals, the kits have been designed to keep players drier, cooler and more comfortable, allowing them to maintain an optimum body temperature and perform at their best on the pitch.

Improved Nike Dri-Fit fabric, now 15 percent lighter than previous Nike kit fabrications, helps keep players dry by drawing sweat to the outside of the garment where it evaporates. Ventilation zones have been placed on each side of the jersey to enhance breathability, and are combined with a fabric that increases air flow by up to seven percent compared to previous kits. Air can now pass across a player's whole torso, keeping him cooler. These ventilation zones consist of up to 200 tiny laser cut holes which are backed by Nike's innovative halo application. This treatment prevents ripping without reducing air flow.