Marks & Spencer to be greenest retailer by 2015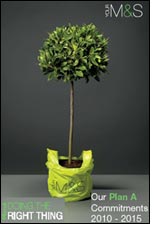 Marks & Spencer (M&S) announces a programme to be the world's most sustainable retailer by 20151, launching 80 major new commitments under M&S' eco and ethical plan, Plan A.

The new commitments will mean we ensure all M&S products become 'Plan A products' with at least one sustainable quality, enable our 2,000 suppliers to adopt Plan A best practice and encourage M&S customers and employees to live 'greener' lifestyles. They include:

• Converting all 2.7 billion individual M&S food, clothing and home items (across 36,000 product lines) sold every year into 'Plan A products', so that each carries at least one sustainable or ethical quality (e.g. carrying Fairtrade or Marine Stewardship Council certification or using free range or other sustainable ingredients). We will aim to convert 50% of our products by 2015 and 100% by 2020;

• Encouraging 21 million M&S customers to live a more sustainable lifestyle starting today with the launch of a new competition – Your Green Idea – for customers to submit their ideas for 'green' actions for M&S to adopt. The winning idea will receive £100,000 to be spent on 'greening' an organisation such as a school, charity or small business;

• Becoming the first major retailer to actively tackle and bring clarity to the living wage debate. M&S will do this by determining and agreeing a fair, living wage before implementing a process to ensure our clothing suppliers pay this wage to their workers in Bangladesh, Sri Lanka and India. Based on our successful pilot in Bangladesh, we will do this by working with our suppliers to improve productivity and management practices;

• Working with M&S suppliers to provide training and education programmes – including in basic healthcare and workers' rights - for 500,000 workers in their factories;

• Helping our suppliers create 200 'Plan A' factories with either ethical or environmental features, or both, and encouraging 10,000 farmers who produce our fresh foods to join our sustainable agriculture programme;

• Sourcing all cardboard for M&S food packaging via a single 'model' forest programme;

• Becoming the first major retailer to ensure full traceability of all the key raw materials used in our clothing and home products including cotton, wool, polyester, nylon, leather and wood;

• Becoming the first major retailer to ensure that six key raw materials we use - palm oil, soya, cocoa, beef, leather, coffee - come from sustainable sources that do not contribute to deforestation, one of the biggest causes of climate change;

• Increasing the number of clothing garments our customers recycle every year from two million to 20 million, including via our partnership with Oxfam, significantly reducing the tonnage of clothing sent to landfill;

• Launching a five-year £50m Plan A incubator fund to support the development of innovative new 'Plan A' products and services at M&S;

• Offering free home insulation and a free home energy monitor to all eligible M&S employees and giving them one paid, day-off a year to work in their local communities.