Propell to merge with DesignByHümans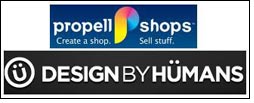 In a combination that is expected to expand both companies' reach into the billion-dollar online apparel market, Propell Corporation, founder of the Propellshops.com 'instant ecommerce' system for schools, musicians and the military, announced its execution of a definitive agreement to merge with DesignByHümans.com of Irvine, Calif., a provider of "crowdsourced" designer apparel.

"The combination is a perfect fit," said Ed Bernstein, CEO and cofounder of Propell. "PropellShops, our on-demand merchandise service, lets schools, nonprofits, musicians and the military instantly market apparel and other products featuring their logo or artwork. DesignByHümans targets a very different market segment, having built a strong reputation among a community of artists and designers who create custom designed apparel for the 14-to-35 market."

"Together, we will have more resources and shared expertise which we are confident will provide better value for all our customers, while each brand remains focused on its core audience," Bernstein said.

"DesignByHümans will remain focused on its community-sourced model and t-shirt design contests, where all of the designs you see on our site are submitted – and voted on – by our community," said Jason Gutierrez, cofounder with his brother Matt Gutierrez of DesignByHümans. "We're thrilled at the marketing and technical resources this merger will bring, which we believe will enhance our ability to deliver great designs and great products," Matt added.

The merger will also provide the combined entity with considerable manufacturing and marketing expertise. Led by a seasoned veteran of the apparel industry, Jamey Draper, DesignByHümans was founded by the Gutierrez brothers in 2007. DesignByHümans' popularity is a direct result of Jason and Matt's previous experience in apparel and design – and their innate understanding of both the design community, and their online customers.

Draper, who also owns Sunsports, Inc., one of the country's leading screen printers, brings expertise in apparel manufacturing that is expected to allow the combined company to offer higher quality, faster turnaround times, and cutting edge manufacturing.
"While the combination will permit us to jointly enhance technology, operations and infrastructure, the DesignByHümans and PropellShops design and marketing teams will remain independent," Draper said. "It's important the combined resources are there to stand behind – not dilute -- both brands as they grow and thrive."

Both companies have established significant business partnerships. Key PropellShops partners include eChalk, which provides technology services including PropellShops to thousands of K-12 schools nationwide. Propell is also working with the $10 billion Army Air Force Exchange Service, which will soon offer Propell-powered personalized merchandise to its millions of active duty and retired military members. DesignByHümans partners with Live Nation, the largest live entertainment company in the world, to create T-shirt contests featuring leading bands, including Lil Wayne, Incubus, Kings of Leon, Kiss, and most recently Stone Temple Pilots. DesignByHümans also markets select products at retail through its licensing partnership with Fifth Sun, a leading supplier of licensed T-shirts and graphics apparel.