Mercedes De Luca takes on role of MyShape CEO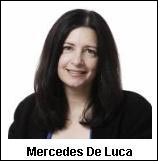 MyShape, the leading personalized shopping retailer for women's apparel, announced Mercedes De Luca has been named chief executive officer and has joined MyShape's board of directors. The company also announced the appointment of two new executive roles: Rocky Hansler as senior vice president of marketing and Loree Lash-Valencia as senior vice president of business development.

These executive appointments come as the company prepares to further grow and scale operations, forge strategic retail and fashion industry partnerships and build increased brand visibility. With its new management team in place, MyShape also plans to launch a re-branded website in the fall with enhanced personalization, rich editorial content and increased social functionality.

Founded in 2006, MyShape is a pioneering online retailer that allows women to easily find clothing that fits their unique shape and style. MyShape's patented technology matches shoppers with items that correspond to their personal measurements and fit and style preferences, solving for millions of women the age-old problem of finding clothes that fit and flatter.

"I am very excited to take on the role of MyShape CEO and collaborate with a talented and passionate executive team to grow the business and redefine the way women shop for clothes online," said De Luca. "This new management structure and the launch of an enhanced website with new features and functionality will enable us to capitalize more fully on our leadership position in personalized online shopping."

Mercedes De Luca is an executive with over 20 years of technology leadership experience in the high-tech industry. De Luca has a track record of designing, implementing and leveraging information technology in high-technology companies to achieve superior business results. Prior to becoming CEO of MyShape, she was the company's chief technology officer. She also served as vice president and chief information executive at Yahoo! Inc. Prior to Yahoo!, she was vice president and chief information officer at Interwoven Inc. She serves on the board of INETCO Ltd. and is on the advisory board of CloudShare.

Rocky Hansler is a 16-year e-commerce and direct marketing veteran with a solid track record of success leading marketing and merchandising strategies for top multi-channel retailers, media companies and pure play online retailers. Hansler's extensive retail experience includes PD Financial Corporation, where he served as vice president of e-commerce; Charming Shoppes, where he led online marketing strategy for the multi-billion-dollar women's specialty apparel retailer, which includes retail chains Lane Bryant, Fashion Bug and Catherines Plus; Condé Nast, where he led direct-to-consumer strategy and licensing for The Golf Digest Companies; and e-commerce merchandising and marketing strategies for IAC/InterActiveCorp and Golfsmith International. Hansler joined MyShape in late December 2009 and, in his first six months, has dramatically increased MyShape's market presence. He will continue to lead all marketing, public relations and brand strategy in addition to creative, photography and customer care.