JNY launches Empowering Your Confidence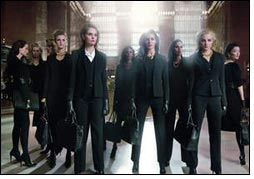 Jones New York, a division of Jones Apparel Group announced the launch of its "Empowering Your Confidence" campaign, which celebrates the brand's over 35 years of empowering women's lives and successes through style.

The "Empowering Your Confidence" campaign is inspired by the tremendous impact working women have had on all aspects of American life. According to a study conducted by Maria Shriver and the Center for American Progress, half of all American workers are women. This study helped to inspire Jones New York's campaign.

Stacy Lastrina, Chief Marketing Officer of Jones Apparel Group, said, "This is about celebrating our heritage. As our signature brand, Jones New York has been dressing women for success for nearly four decades. From her first suit to her first promotion, from graduation to the board room, Jones New York has been there helping her achieve her goals both in and outside of the office, and that continues to be our driving purpose. The Jones New York brand remains strong, our position clear and our goal has and will always be to empower women through not only what they wear but also their involvement in education, business, causes and community."

Dee Dee Myers, the first female Press Secretary of the White House, and ambassador to the campaign, said, "I'm delighted to be part of the Jones New York 'Empowering Your Confidence' campaign. Simply put: empowering women changes the world for the better. And I'm passionate about helping women succeed in all aspect of their lives, from career, to community, to family. Jones New York shares that belief -- and that passion. For decades, they've been not only dressing women for success, but helping them achieve all their goals. This campaign is the next step in that important effort."

The campaign includes multi-faceted initiatives in media, networking and philanthropy with national and local components:

• Famed artist Annie Leibovitz photographed the campaign in New York City's Grand Central Station. The images capture the power and confidence of the modern working woman. Jones New York unveiled the campaign images in Grand Central Station in early August, with a print debut set for the September issues of fashion publications, including Vogue, Elle and Vanity Fair, as well as leading websites like The Huffington Post, Monster.com and NYTimes.com.

• Dee Dee Myers will host the first annual Jones New York Power Lunch in September, which will bring together women in varying stages of their careers -- from those who are very seasoned to those new to the workforce. Myers will also be awarding the first grants from the newly created JNY Empowerment Fund. The fund's mission is to help women reach their personal, professional and community goals through monetary grants. Dress for Success and Ladies That Launch are both partners for this initiative.

• Jones New York has created "The Little Black Book of Career Advice," a digitally integrated and socially shareable asset that features a forward written by Myers and inspirational quotes from over 100 successful women across the country, including Lauren Bush, Arianna Huffington, Bonnie Fuller, Deborah Norville, Bobbi Brown and Ivanka Trump, among others.