Timberland to outfit all filmmakers at Sundance Film Festival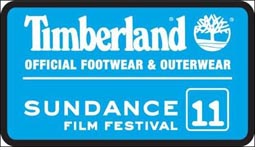 This month, The Timberland Company stakes another claim to its coveted title as the Official Footwear and Outerwear Sponsor of one of the most acclaimed film events in the world – the 2011 Sundance Film Festival. For the third consecutive year, Timberland will be on-hand to provide attendees protection against the outdoor elements throughout the Festival, which takes place in Park City, Salt Lake City, Ogden, and Sundance, Utah from January 20 - 30.

As part of its sponsorship, Timberland will supply more than 320 filmmakers and programmers with exclusive co-branded "Filmmaker Jackets" and premium winter boots from the ever-popular Timberland Earthkeepers and outdoor performance lines. Featured waterproof boot styles such as the Washington Summit Mid for men and Earthkeepers Mount Holly Tall Lace Duck Boot for women are ideal for Festival-goers who want to keep warm, and do so in style. Not forgetting about those important individuals behind-the-scenes who keep the Festival running, 2,200 pairs of rugged winter gloves from Timberland will be distributed to Festival volunteers and staff.

The most important on-site activation for the brand is The Timberland Retreat, a consumer-facing booth located at the Festival Co-op, 625 Main Street (opposite Sundance House Presented by HP, at the Kimball Art Center). The Timberland Retreat – open daily from 10 a.m. to 6 p.m., from Friday, January 21 until Saturday, January 29 – will showcase rugged and stylish outdoor footwear and apparel offerings, including a preview of 2011 Earthkeepers footwear for men and women. Consumers who stop by The Timberland Retreat will have the chance to participate in daily giveaways, which will include organic cotton tote bags, stainless-steel tumblers, sunglasses, ear warmers, hats, scarves, and multiple $150 gift cards.

Anyone wishing to purchase Timberland winter gear in Park City can visit the Timberland concept shop at Park City Clothing Company (558 Main Street), which will be fully stocked with the brand's best outdoor offerings.

"In the heart of the rugged Wasatch Mountains, Park City is a diamond-in-the-rough, with a unique spirit and style that sets it apart from its Rocky Mountain sister communities," said Maile Buker, Senior Director of Marketing for Timberland North America – and former Park City resident. "Timberland celebrates the independence that Park City and the Sundance Film Festival both share. We look forward to bringing our own unique sense of outdoor spirit and style to keep locals, visitors and filmmakers protected, comfortable and looking great, this winter and all year long."

As a company that is passionate about the outdoors and about protecting it for future generations, dozens of Timberland-branded recycling bins located throughout the Festival site will help visitors and patrons do their part to keep Park City looking its best. Timberland is also proud to be a partner in the Festival's green efforts, providing assistance for hauling and recycling in Park City.