INVISTA initiatives support CORDURA CaresSM program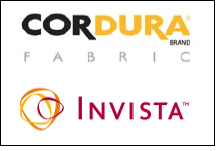 INVISTA, owner of the CORDURA brand, has achieved substantial improvements in energy use and emissions reductions in its Performance Surfaces & Materials (PS&M) business unit. The business has made this progress by increasing energy efficiency and analyzing which units to operate most effectively. To build on this progress, INVISTA's PS&M division has established a new operations goal to reduce energy usage and increase energy efficiency in its operations to achieve a 20 percent reduction in energy intensity by 2020, beginning in 2011.

"We have dedicated resources at all of our North American plant sites to achieve significant energy improvements, and we're proud of the progress that they and their teams have been making," said Derek Young, global sustainability director for INVISTA Performance Surfaces & Materials (PS&M).

"Collectively, we are committed to producing products responsibly and efficiently, conserving resources, eliminating waste, and designing long-lasting products that give consideration to sustainable attributes such as recycled content, recyclability, and renewable content."

As part of the improvements in energy efficiency and emissions at INVISTA PS&M's North American plants, since 2007:

INVISTA PS&M has reduced Total Fuel Energy Intensity by 13 percent due to a sharpened focus on waste elimination in site-generated utilities such as steam. Utility system upgrades aimed at eliminating heat losses have been key to driving this improvement.

INVISTA PS&M has reduced Total Fuel CO2 Intensity by 21 percent. One example that contributed to this accomplishment is that coal boilers were permanently retired and replaced with a state-of-the-art-natural gas boiler at INVISTA's Seaford, Delaware facility, resulting in decreased CO2 emissions.

INVISTA PS&M has Reduced Total CO2 Emissions Intensity by 6 Percent by redirecting bulk continuous filament (BCF) production to more energy-efficient assets.

Fuel energy intensity was measured in millions of British thermal units (MMBTUs) per ton of product, and CO2 intensity was measured in tons, either used as fuel or emitted, per ton of product manufactured.

These achievements have also resulted from the action INVISTA has taken to enhance their plants in accordance with a recent environmental agreement.

The progress being made by INVISTA is directly in line with the CORDURA brand team's CORDURA CaresSM program launched in 2009. The brand's sustainability platform is ultimately rooted in INVISTA's commitment to environmental, health and safety excellence as well as providing long-term value to society and consists of four key pillars: Sustainable Performance, Enduring Materials, Responsible Manufacturing and Corporate Citizenship.

Further, INVISTA has retained Five Winds International, a leading sustainability management consulting firm, to provide a market analysis of the key trends relative to sustainability, as well as an assessment of life-cycle trends and methodologies that are influencing sustainability efforts today and in the future. The research conducted for INVISTA will include the Performance Surfaces & Materials (PS&M) business unit, which produces qualifying filament and staple fiber technologies used in the CORDURA brand fabric portfolio, as well as fibers used in flooring, bedding, airbag and industrial-use products.