AMG bags Dubai Quality award for Dockers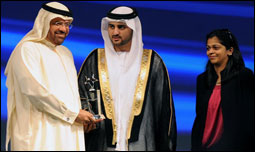 Dockers, the internationally renowned apparel brand, handled by the Al Madani Group, received recognition for its commitment to excellence and high standards at the coveted Dubai Quality Award. The award is the benchmark for quality as well as business excellence and is organised under Dubai Service Excellence Scheme (DSES), an initiative by the Department aimed at raising customer service standards in the Emirate. Mr. Mohammed Al Madani received the award on behalf of the Group at the annual DSES event.

Announcing this in a press release Ms. Preeta Menon, General Manager, Al Madani Group said "Dockers has been selected as 'Best Service Performing Brand' in Small Business Category for consistently maintaining good customer service standards during 2010 cycle. This is yet another example of Al Madani Group's commitment towards Quality and its ever increasing base of customers."

The glittering ceremony was conducted under the patronage of H.H. Sheikh Mohammed bin Rashid Al Maktoum. During the ceremony select organizations were conferred with the Dubai Quality Award, Dubai Human Development Award and Dubai Service Excellence Scheme for the 2010 cycle.

"Al Madani Group has endeavoured to maintain high quality standards throughout its operation, especially in the area of customer service. As part of the process, mystery shopping was conducted through the year by DSES management, the results from Dockers outlets at Diera City Centre and Dubai Mall have been consistently close to the 100% mark, we are very proud of our achievement and owe this success to the team at the stores" added Ms. Preeta.

Outlining the effort behind the company's bid for membership to DSES, Mr Mohammed Al Madani, Chairman & CEO said that Dockers, a life style brand, over the past few years has grown to become a preferred choice as a high value brand among discerning customers. "Our growth is mainly due to our strong customer focus as well as our ability to identify and respond in a proactive manner to the fashion needs of the growing customer base in this part of the world," he observed.

Dockers pioneered an entirely new apparel range with the introduction of Khaki trousers as an alternative to denim more than two decades ago. Within a few years, Dockers became the alternative to a more formal way of dress, gradually finding its way in to the office workplace as a more comfortable substitute to the suit.

From its origination in 1986, Dockers revolutionised the industry with a range of highly wearable clothes for a versatile, on-the-go lifestyle which it made its own. Customer service training, which includes an in depth training about the product as well as the competitors, has, as a result become a regular feature of Dockers employee development programme.

"The Dubai Service Excellence Scheme membership is something that we at Al Madani Group have been working towards. We had won this coveted membership forour other brand Chevignon. It is heartening to note that we have won it again, which reflects our commitment. We believe that any business should focus on customer service which in effect will lead to better customer acceptance in the long run," added Mr. Mohammed Al Madani.