Observer Ethical Award for Pachacuti in Fashion & Accessories category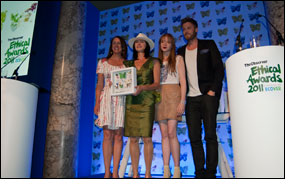 Pachacuti has been pronounced the winner of the Fashion & Accessories category at the Observer Ethical Awards, the UK's 'Green Oscars', at an award ceremony that took place on the evening of June 9th 2011, at the Victoria & Albert Museum in London. Pachacuti was commended by an eminent panel of 32 judges which included actor Colin Firth, TV presenter Ben Fogle, Deborah Meaden from Dragon's Den and model Lily Cole.

The Observer Ethical Awards recognises across a total of 12 categories, organisations and individuals whose work makes day-to-day ethical living more accessible and achievable. The fashion and accessories category is sponsored by Vogue.com and is always one of the most hotly contested of all categories.

The award recognises companies who are committed to lightening fashion's footprint and creating an ethical supply chain and this year's other finalists were Christopher Raeburn who recycles parachutes into catwalk couture and French company Veja who make shoes from organic cotton and tree-tap rubber.

Ethical fashion is increasingly seen as both aspirational and accessible and this award commends those companies at the forefront of this movement. Livia Firth, wife of Colin, tweeted after the announcement "Pachacuti you so deserve the Ethical Awards! And this summer my Pachacuti hats will be even more special!"

Carry Somers, founder and managing director of Pachacuti, commented: "As a pioneer in ethical fashion, I believe that it is important not to be complacent but to keep on pushing the standard higher, which is why we became the first company in the world to be Fair Trade Certified by the WFTO and are now piloting an EU project on Geotraceability. I am delighted to receive this award in recognition of the hard work which my staff and I have put into creating a Fair Trade, sustainable supply chain for our Panama hats, clothing and accessories and the benefits which this has brought to our producers and their communities in the Andes." Pachacuti is best-known for their collections of Panama hats in both classic and contemporary styles which are shown at both London Fashion Week and Paris Fashion Week.

But there is even more: the previous day it was announced that Pachacuti's programme was not only reaccredited for the National Awards of Excellence's Big Tick in the International category for its impact on Millenium Development Goals, but commended for two further Big Ticks and shortlisted for the title of Example of Excellence in the Small Company of the Year and Responsible Supply Chain categories, up against Marks & Spencer and Kraft Foods in the latter.

The Big Tick award is the first level of award available to entrants of the national Awards for Excellence, which recognise inspirational programmes that are making a positive impact on the community, the environment or wider society. Reaccreditations are given to companies that can demonstrate the continuing positive impactof their award-winning initiative. The final will be announced at a Gala Event sponsored by Unilever on 5 July, at the Royal & Albert Hall in London. Ahead of the awards ceremony, Carry Somers has received an invitation to meet chancellor George Osborne at 11 Downing Street.