MAS to launch GAP Go Beyond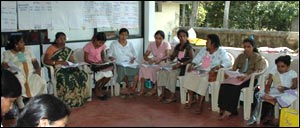 Known for its high labour standards/high employment standard and commitment to support its female employees who constitute over 92% of its workforce MAS entered into a partnership with one of its long standing clients, Gap Incorporated to launch the Gap Go Beyond Programme in 2006.

The programme which is supported by Gap's Social Community Investment Fund extends it's outreach to selected communities in which MAS business units are located.

The programme is based on the belief that women play a critical role in the progress of their communities and as such empowering women to maximise their potential and propel their communities forward, is key to community development.

MAS actively seeks to integrate its business units into the wider community. A high percentage of the workforce is recruited from the given community.

MAS business units are transparent in their operations and actively partner community level organisations and entities to spur development and improve living conditions of the respective populace.

The success and progression of a community is greatly contingent on its main resource, its people. Apart from the visible direct impact of employment creation, locating a business unit within a given community also involves indirect impacts such as improvement of the local economy, improved access/provision of infrastructure and services.

In turn, the community supports the functioning of the business unit. As such this programme is based on the premise that community development is a mutually beneficial exercise.