600 personalities participate at 'Celebrity Charity Shoe Throwing Competition'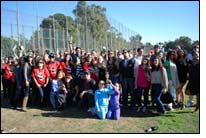 The first annual 'Janeen Mansour Celebrity Shoe Drive' has concluded on a high note, with the event raising enough shoes benefiting families of The Salvation Army of Southern California, an US-based charitable institution. The event, which was recently held at the Rancho Park Golf Course in Los Angeles, was attended by popular Hollywood stars, with over 600 personalities participating at the 'Celebrity Charity Shoe Throwing Competition' and donating over 1000 pairs of shoes for needy families.

Three winners each received the 'Golden Shoe Award' for throwing their shoes with the farthest distance in the children's, ladies' and men's categories. President George Bush and Lara Bush are great supporters of the Salvation Army and they will be making shoe donations in support of Mansour's aims for the show drive.

Janeen Mansour, TV anchor and celebrity presenter of Dubai.TV, has revealed that the shoe throwing competition was also enjoyed by families who participated alongside the celebrity participants who competed within the fun-filled activities. Furthermore, officials from the Guinness Book of World Records were also invited in case a new record was set at the event. Hollywood A - Lister Melanie Griffith and famed designer Christian Audigier was kind enough to donate several pairs of shoes, with the latter donating new unused pairs of Ed Hardy shoes.

Among the celebrities who attended the event were Kim Kardashian of the reality TV show 'Keeping Up with the Kardashians', Ziad Batal, Executive Producer of 'Hydra Executives', a new reality program set in Abu Dhabi, UAE and Steve Allen, Executive Director of The Salvation Army of Southern California were also present at the star-studded event.

"No other non-profit organisation has the range of social services to help the disadvantaged like The Salvation Army," said Mansour. "They provide homeless shelters, drug and alcohol rehabilitation, services for at-risk youth, summer camp for underprivileged children, day care, elderly care, after school programs for inner city kids, transitional and permanent housing for those afflicted with HIV/AIDS, among other charitable works. We can never forget their prompt disaster response to help the victims of the devastating California wildfires. The success of this event reiterates the strong support of Los Angles and the entire Southern California for The Salvation Army, and I am very proud of the overwhelming volume of shoe donations we have received, which will definitely help many poor families who cannot afford basic needs such as decent footwear."

Among other celebrities who attended the event were, Solveig Romero Campbell, "Edge of Darkness", Eduardo Garcia, "No Country for Old Men, Katie Gill, "CSI Miami," A&E's "The Cleaners," Elizabeth Nicole, "7th Heaven" and ABC's "Port Charles," Dyllan Christopher, "Unaccompanied Minors," "Bones," Stefani Brass, "This Might Hurt" ABC TV, "Six Feet Under," Ellia English, "My Sister's Keeper," "Empty Nest," James Black, USA Network's, "The Starter Wife," David Jean Thomas, "Fight Club," "Nutty Professor II," Yancey Arias, "Behind Enemy Lines," "Sweet Dreams," John Gearries, "AmerAsian3," "Code Black," James Duval, "CORNERED!," "Donnie Darko," Timothy Woodward, Jr., "WGN Network's Whittaker Bay," "Redefining Love" movie, Courtney Hansen, Spike TV's "Great Builds" automotive show.