Business dynamism & quality sourcing, LE CUIR A PARIS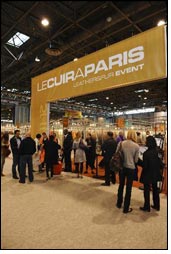 Are we finally seeing a revival of the economy? The latest edition of Première Vision Pluriel (14-16 September 2010) was extremely encouraging with three days of intense activity and excitement, with stands that often never emptied out, busy traffic in the aisles where meetings and discussions continued, a shared desire for news and creative boldness, orders being written, and a palpable energy in all sectors.

Figures confirmed the impression, felt by exhibitors and visitors, of a notably dynamic session and a return to business: the 6 Première Vision Pluriel shows (Expofil, Première Vision, Indigo, Le Cuir à Paris, ModAmont, Zoom by Fatex) jointly registered 61,440 visits from fashion professionals from over 100 countries across the world, an increase in attendance of over 10.2% over the September 2009 session.

The new format of the show, now concentrated over 3 days, proved to be a positive and efficient step, strengthening the show's competitiveness and the lively atmosphere of business discussions underway.

LE CUIR A PARIS September 2010:
Business dynamism and quality sourcing

The 19th edition of LE CUIR A PARIS has held in a dynamic mood. The exhibitors demonstrated their satisfaction with the quality of contacts made and a the substantial business volume.

329 exhibitors coming from 26 different countries have presented their know-how for the autumn/winter 2011-12 collections. LE CUIR A PARIS completely filled out 5 000sqm net, this represents an increase of 7% in comparison to the same edition in 2009.

« Due to the difficult economical environment in 2009, we had experienced a drop in exhibitors' number but we have now met the same figures as in 2008. Further, several companies have increased their exhibition space for this edition. », explains Ms Béatrice Rousseau, General Manager of LE CUIR A PARIS.

The move from 4 to 3 days has certainly made the work more intense for the exhibitors but they are pleased with the results.

Conceria Nuti Ivo (Italy), participates in LE CUIR A PARIS since its very first edition back in 2001. For Mr Mario Donati, Marketing Director, « 3 days are just enough. It's true that the work was much more concentrated on the first two days and sometimes our customers had to wait for their turn but we have suceeded in offering them a quality service. », he outlines.

As for the companies coming for the first time, the work has been well split over the 3 days. Mr Anour Daghari, Sales Manager at Tenerias Homs (Spain) explains that he dedicated the first two days to develop his new contacts in the French market, objective reached. « We fixed all our appointments with the existing clients on the last day of the show because, generally, it's a quieter day».

Ms Arzu Sani, from Odabasi Deri (Turkey) observed a difference in visitors' profile over the 3 days. « We came across a lot of designers looking out for the seasons' trends on the first day. Real business was carried out on the second day but we have customers coming back to see us once again on the last day. Most particularly, we had some buyers coming back with their own clients to show the materials chosen for the next collection ! It's our 5ème edition in LE CUIR A PARIS and I am convinced that a regular presence helps in building trust between buyers and exhibitors. », she declares.