Jharkhand Tassar silk fabric bags GOTS certificate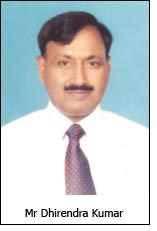 Jharkhand has made rapid strides in the development of the silk industry in the state, enabling the lower strata of society to live a better livelihood.

"This has been made possible as the role of Jharcraft – the lead government agency responsible for development of the handicraft industry including the silk sector was changed from implementer to facilitator", says, Mr Dhirendra Kumar, MD - Jharcraft.

Jharcraft is a government of Jharkhand undertaking. It was formed to promote Tussar (silk) culture, handlooms and handicraft, and to revive the unique cultural expressions of the state and its people. Sensing the potential of silk, handloom and handicraft, Department of Industries, Government of Jharkhand, took many steps for the development of this sector.

Now the state-produced silk fabrics have bagged the certification from the US-based Global Organic Textile Standard (GOTS), which will help the silk industry in the state to develop its industry in new frontiers, particularly, exports.

The GOTS certificate has also helped the silk fabrics produced in the state to provide tough competition to traditional silk varieties like Kanjeevaram, Banarasi and Mysore silk.

Providing details about the development of the Tasar silk industry in Jharkhand, Mr Dhirendra said, "Basically we have changed the role of the department from implementer to facilitator. Earlier the department was involved in the production of the quality eggs, which was given to commercial rearers.

"But then we changed the policy and decided that the seed will be reared by the villagers, i.e., the farmers themselves. And, we have given them the same training that our staff is provided for producing good quality commercial seeds.

"So, this has changed the whole scenario because earlier, our one centre was able to support only 100 farmers per year, but today, they are able to support more than 3,000 farmers. This way one can see the transformation because availability of quality seed has increased and now we are in a position to monitor properly".

Speaking about receiving the GOTS certification, he revealed, "The Tussar silk fabric has got certification from the US-based Global Organic Textile Standard (GOTS). We are the only ones in the world today to have this certification for silk fabrics.

"This organic tag creates confidence in the minds of the consumer, that our silk fabric is not harmful to their skin, etc. The whole world today is moving towards natural and organic products, particularly in the western countries. So, focus is more on organically produced silk.

"Even in India, in the higher classes, people have recognized that one should go in for the organic products or say, natural products. The mindset of the peopleis changing, there is better acceptability and we have seen that after getting the certification our sale has increased tremendously.