'My vision of achievement is yet to unfold' - Deepak Chiripal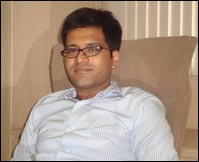 'There is no substitute for hard work'
'Be offensive instead of being defensive'
'How successful you are is one's own perception'
'There is cost of lost opportunities in delaying a decision'
'Business is to earn a livelihood and not to turn it into a lifestyle'

Believe it or not, these quotes are from only a 33 year-old second generation textile scion.

The moment you enter the corporate house, you can feel the opulence, with luxury cars of various makes lined up and a big potrait of Lord Ganesha adorning the entrance of the office premises. But his own private office is spartan - just a desk, visitor's chairs and a sofa. The desk is neat and clean - devoid of papers.

I am in the office of 33-year old Deepak Chiripal, the young and dynamic Chief Executive Officer (CEO) of Nandan Exim Ltd – the denim arm of the Rs 1,500 crore Chiripal Group. Deepak is the son of Mr Jyotiprasad Chiripal, the second amongst the first generation of four Chiripal brothers.

Deepak was educated at Udgam School in Ahmedabad and has completed his MBA from Thunderbird University in the US.

His persona is non-assuming and dressing style simple. Not that of a person heading the operations of the third biggest denim producer in the country. However, the mind ticking away behind the bespectacled young US educated CEO's head is razor sharp. He speaks eloquently and without pauses.

The journey of the Chiripal group began in 1972, when his visionary uncle Mr Vedprakash Chiripal laid the foundations of what is today a well-diversified and vertically integrated textile group with operations spanning petrochemicals, spinning, weaving, knitting, denims, fabric processing, chemicals, infrastructure and education, thereby generating direct and indirect employment opportunities for more than 20,000 people, currently.

Mr Vedprakash first set up a powerloom factory to begin with. The Chiripal Group later forward integrated by setting up a fabric process house and then a second fabric process house was also added in a few years. Till the late 80s, the Chiripal Group was selling fabrics under their own brand name.

However in order to concentrate on expanding and focusing on to other segments and areas of the textile business, they decided to take up only job-work for processing fabrics. This proved to be a masterstroke decision and a turning point for the Group after which, there was no looking back.

CIL Nova Petrochemicals Ltd, a polyester spinning plant was set up in 1994 under a joint venture with Surat based – Gupta Synthetics. Nandan Exim came in to existence in 2004 and has ever since increased denim capacity six-fold under the tutelage of Deepak Chiripal.

Starting with just a capacity of just around 10 million meters per annum, Nandan Exim added pretty much around 10 million denim capacity each year and has now touched 60 million meters per annum and is today, the third biggest denim producer in the country.