Newlife by Filature Miroglio at ITMA's chapter on fibers & yarns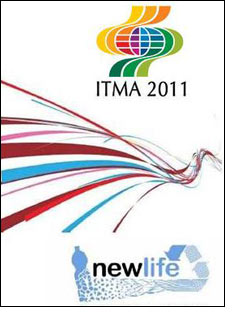 Filature Miroglio will present Newlife at the International Exhibition of Textile Machinery's from 22nd to 29th September 2011, in Barcelona (Booth H4-A138) new chapter on fibers and yarns with a strong focus on sustainability. Covered in the chapter are natural, man-made and technical fibers. ITMA is a global industry event that represents a unique opportunity for Newlife to create synergies with the entirety of the textile supply chain, from machinery to finished textile and yarn products.

The opening of ITMA follows the World Textile Summit (September 21st) where keynote speaker Kofi Annan will make his address with particular focus on environmental challenges faced by the industry and initiatives to promote greater environmental responsibility, a goal shared by the Newlife platform and Filature Miroglio - silver sponsors of WTS - that have been working to this end since Newlife's launch half a year ago.

In less than six months, Newlife has grown from an ambitious product platform to a commercial reality that is leading the way in sustainable innovation for the textile industry and is now present in the collection of fabric producers including: Boselli E. & C. S.p.A., Frizza S.p.A., Gruppo Cinque S.r.l., Klopman International S.r.l., Lanificio Becagli S.r.l., Lanificio Milior S.p.A., Pontetorto S.p.A., Serates S.r.l., Tessitura Corti S.r.l., Tessitura Oreste Mariani S.p.A., Tessitura Virgilio Taiana S.p.A. that will showcase their Newlife products at the major international shows starting in September 2011.

Newlife's commercial success and the attention it has received from textile producers and fashion brands alike is a direct result of both the platform's unique properties and sustainable appeal, and the brand's trademark protection and communication policies, developed specifically to preserve the brand's equity and inform the market while protecting their accredited partners.

"Newlife is our bet for the future," says Dr. Stefano Cochis, Business Unit Director of Filature Miroglio. "Today, it is not possible to imagine a competitive textile industry that isn't innovative, sustainable and commercially viable. Newlife is succeeding because it meets these three requirements, an inimitable product that is attractive to producers and brands, and appealing and performing for consumers. For this reason we must be rigorous in determining what products are Newlife certifiable, it is important that consumers be protected and informed in their choices."

A number of brands has already adopted Newlife, including Santini, the International leader in the production of technical cycling sportswear, that launched MIRAI, a new exclusive line of socks produced with Newlife yarns. This is an exclusive and cutting edge project that combines stylish design and a revolutionary material such as Newlife, with antibacterial, UV-protection and moisture management properties, to create a high-quality, high-design, innovative, performing and sustainable product.