RadiciGroup highlights Starlight FR at NANOITALTEX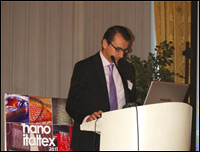 On 23 and 24 November, Milan was the venue for NANOITALTEX 2011, the seventh annual international textile apparel conference, promoted and organized by the Italian association TexClubTec. At the two-day event – where RadiciGroup participated as a conference presenter –, European research institutes, universities and textile industry operators met to debate on the theme "Market, production innovations and emerging technologies for the textile clothing sector."

The conference programme was quite intensive and included a total of 28 presentations. On the first day, the speakers covered topics such as world textile fibre consumption, investments in the textile machinery sector, factors affecting the growth of Italian textile companies, and the potentials and trends of the technical textiles market in China, India, Russia and the Unites States of America.

The presentations during the second day of the conference were of a more technical nature. University professors, researchers, chemical engineers and professionals associated with the textile field shared their experience and views on three macro-themes: "Advanced products and innovative textile applications", "Problems and needs in enterprise knowledge management", and "Fire protection: Technological trends and recent developments in the sector of textile flame retardancy". The RadiciGroup presentation came under the last theme.

Roberto Parenzan, site manager of Noyfil SA – a Group company ranking among the leading European producers of a wide range of polyester yarns –, illustrated the characteristics, applications and evolution of the RadiciGroup flame-retardant polyester product line sold under the brand name Starlight FR.

"Our customers demand ever more innovative products," Parenzan said during his talk. "They want high-quality, high-performance customized yarn that enables them to make technologically advanced fabrics. The Starlight FR product line is just one example of product tailoring. Our customers can select the count, lustre, quantity and type of yarn they need. Colour can also be customized: the solution dye is formulated to match the sample supplied by the customer.

"What's more, our customers can choose any combination of additional features. As a matter of fact, we can supply multi-functional yarn produced with a mix of additives to give the yarn various performance characteristics, such as flame, UV ray and/or bacterial resistance, as well as solution dyeing. A very import aspect of our collaboration is that, in the design stage, our customer has no limits." "We are well aware that innovation is a strategic factor in maintaining and strengthening competitiveness in any industrial sector."

Parenzan continued. "Today, in the textile clothing industry, innovation is one of the necessary prerequisites if we want to stay in business in an increasingly unstable, competitive and aggressive market. For this reason, it is of fundamental importance to focus on developing technologies and products that meet specific customer requests.