BIOPHYL brings exceptional new level of softness to any fabric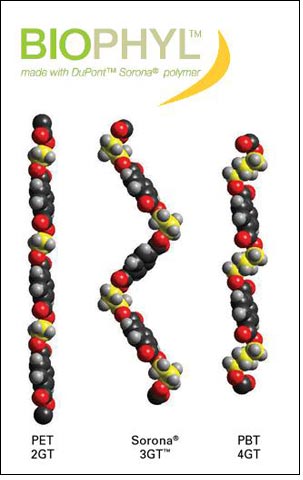 BIOPHYL products using ADVANSA'S fibres and yarns are made with PTT, a special polyester-like polymer. In the case of BIOPHYL petrol based Glycol, has been replaced with Bio-PDO, which is made of corn sucrose. This resource is renewable and therefore reduces the dependability on petro-chemicals, which is the classical raw material for Polyester.

In addition, the use of yarns made with such polymers contributes to energy savings and a reduction of greenhouse gases. In comparison to fossil-based Nylon, the production of this polymer consumes 30-40 % less energy and results in 50-60% less greenhouse gas emissions.

Further energy reductions can be achieved during the dyeing & finishing of BIOPHYL fabrics as, compared to regular Polyester, these fabrics can be dyed at lower temperatures and in a shorter process time.

IOPHYL fabrics offer additional values to the user: They are easy to care for and have a unique soft hand together with excellent stretch and recovery.

These beneficial end-use properties derive from a unique, semi-crystalline molecular structure featuring a pronounced "kink" which gives special in-use properties superior to either nylon or polyester.

ADVANSA BIOPHYL fabrics are already available from fabric manufacturers throughout Europe.
Luciano Colasanto, Market Manager at ADVANSA comments, "BIOPHYL offers the potential to combine excellent in-use properties with environmental benefits of renewable resources. This is consistent with ADVANSA´s sustainable development policy. By replacing traditional petrochemicals with renewable resources and biological processes, we are one step closer to building a new renewable economy."

Key Features and benefits of BIOPHYL fabrics:
Softness
Both flat and textured yarns bring exceptional new level of softness to any fabric.

Stress-strain tests demonstrate that flat yarns made with this polymer are softer than nylon at the same denier, because less effort is required to bend the fibres.

Stretch Recovery
Research shows that a fully drawn flat yarn made with this polymer containing Bio-PDO recovers 100% from an approximately 120% strain. Even at higher strain levels, fibres recover completely, returning to their initial form.

Textured yarns, offer up to 145% stretch with 100% recovery. And provide greater bulk and cover than nylon, using the same amount of fibre.

These characteristics are comparable to PBT yarns, Another ADVANSA product that offers stretch recovery (widely used in the Denim industry).

Easy dyeability
Using standard available dyes, BIOPHYL fabrics can be dyed at lower temperatures than regular polyester, without requiring pressure or chemical carriers. The special polymer molecule enables the crystalline structure of the fibre to begin accepting the dye pigment at approximately 85ºC. Full depth of colour is achieved at 110°C, with outstanding wash fastness.