Automotive Textiles - a successful symposium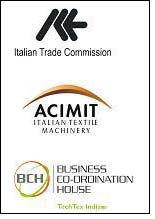 In spite of the present global economy dynamics and the financial meltdown impacting the economies worldwide, emerging countries like India are actually thinking long term by way of upgradation of technology bearing in mind a 'do or die' situation. The Indian Automotive Industry (passenger cars) which is amid the top ten in the world with an annual yield of over 2 million units may not be looking so vibrant as of today but certainly has very good future potential for India once the recessionary dust has settled. This was reflected at the symposium on Automotive Textiles that opened to a packed audience and turned out to be a huge success.

The Italian Trade Commission (ICE), the Association of Italian Textile Machinery Manufacturers (ACIMIT) and Business Co-ordination House (BCH) organised a 'Symposium on Automotive Textiles' on January 22, 2009 at Shangri-La Hotel, New Delhi which focused on 'Italian Technology for Automotives- Engineering Innovative Materials'.

The symposium was attended by over 130 delegates who comprised of the key players across the automotive textile industry value chain and the traditional textile industry of India. Additionally there were leading OEMs like BMW, Honda, Maruti, TATA present along with Tier I and Tier II suppliers amongst regulatory bodies and researchers. The symposium's core concern was application of contemporary Italian Automotive Textile Technology for Indian automotives.

Leading Italian machinery manufacturers proposed their most up-to-date innovations in spinning, weaving, knitting, nonwovens, dyeing and finishing thus covering each manufacturing process. The deliberations proved to be very fruitful in an era when OEMs strive to work hand in hand with their suppliers and their supplier's suppliers to offer innovative and cost competitive products to the consumer.

The symposium was a one day event and had presentations on the technology, potential and status of this emerging and dynamic automotive industry with ample networking sessions in between. To take complete benefit of the symposium, attendees had the opportunity to have business oriented meetings with the Italian companies. These meetings were held after the symposium and continued at BCH on the next day. The symposium also had a section where presenting companies had on display their brochures and product samples to show their respective offerings to the audience.

The organizers were the right mix each excelling in their own field which contributed to the success of the symposium. According to Ms. Cecilia Oliva from the Italian Trade Commission office in Rome, ICE is working aggressively to promote the 'Made in Italy tag' to facilitate in creating an exclusive market for the Italian Automotive Textile Technology in India. On the other hand ACIMIT has taken a lot of initiatives in the recent past which include a market survey conducted by them on the Indian Technical Textile Industry.

Last year they organised an Indian delegation to Italy in collaboration with BCH to visit the Italian machinery manufacturers' facilities. BCH is an authoritative and trustworthy access for overseas companies in striking reciprocally beneficial alliances with the budding Indian Technical Textile and Nonwovens Industry by offering customized services.