Latest fabric collections to be on preview at Première Vision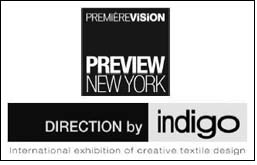 On Tuesday and Wednesday January 11th and 12th, New York will welcome the latest fabric collections at Première Vision Preview New York and creative textile designs at Direction by Indigo. For the second time, the two shows will be held concurrently at the Metropolitan Pavilion and Altman Building, allowing U.S. designers and buyers to discover the newest fabric developments and surface designs, addressed to their needs, for the Spring Summer 2012 season.

"While the recovery in the American market is hesitant and feels a particular attention on prices, in the end what prevails is the creative nature of high-quality products. And it is at these two shows that American fashion industry professionals will, as usual, find the offer that meets their expectations," said Jacques Brunel, General Manager of Première Vision. Exhibitors will be presenting to the American market a preview of their products, well ahead of the worldwide launch of the collections.

Première Vision Preview New York proposes a broad range of collections (silks, laces, jacquards, sportswear and technical products for outerwear as well as suiting and more) for all fashion markets. The show will include exhibitors from 13 countries (Italy, France, Turkey, Japan, Spain…).

This edition at Direction by Indigo, the offer is significantly rich with an additional 10 new studios, and includes prints, embroideries, knits, vintage, forecasters and CAD specialists.

The fashion areas and services proposed by the Fashion Team will trace out the major Spring Summer 12 directions for surface designs and fabrics.

For textile designs, the season shines a light on complementary alliances of fabric, color and decoration. Light, transparency, expressiveness and the distinct presence of matter stand out as inextricable ingredients in patterns. There is room for more exclusive and elusive elements in creative interpretations.

For fabrics, the quest for an expressive materiality, an adjustment towards lighter weights and sometimes even transparency, and explorations of lively, vibrant, and unique colour are essential in all products and know-hows. The Seduction, Relax, Distinction and Pulsation style universes show off their personalities and play on their differences, for fashion that looks to be less consensual.

A fashion season firmly committed towards stronger choices, more marked visuals, and riskier collections. A season to approach with determination and ambition, powerfully inciting a forward-looking vision, by seeing far, by seeing wide, boldly and energetically.

Première Vision S.A.