Recycled & renewable materials absorb noise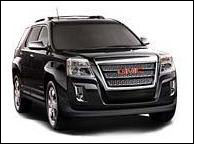 With gas prices rising, GMC Terrain owners can take solace in the compact crossover's segment-leading EPA-rated 32 highway mpg, achieved in part by the use of lightweight eco-friendly parts.

Terrain also has one of the quietest interiors in its segment thanks in part to plant fiber-reinforced ceiling liner and recycled textile insulation in its carpet assembly, dashboard and cargo area. Terrain demonstrates GMC's commitment to delivering professional grade performance in an environmentally responsible package.

"We're not just using renewable and recycled materials for the sake of being 'green,'" said Lora Herron, GM bio and recycled materials engineer. "They often are more energy efficient to manufacture than parts made from virgin materials, and they can be lighter weight as well, which helps improve fuel economy and reduce CO2 emissions."

Much of the sustainable material on Terrain insulates the interior from external noise. At 70 miles per hour, Terrain's interior is quiet enough to allow conversation in normal tones of voice.

The rigid substrate between Terrain's steel roof and the soft fabric headliner uses kenaf fiber as reinforcement. Kenaf is a rapidly renewable plant sustainably cultivated in south Asia and is hollow like bamboo, which makes it an effective sound dampener. In addition, kenaf-reinforced substrates weigh less and use less energy to manufacture than those using glass fibers.

Terrain uses an acoustic insulator made with cotton and polyester recycled from varied consumer products, including jeans and carpet. The material insulates Terrain's dashboard, carpet, cargo area and other body sections as well as parts made with more petroleum-based raw material. As insulation, it is 50 percent lighter and easier to recycle.

GMC also uses recycled plastic from soft drink and water bottles in the rigid plastic grille frame behind Terrain's unique chrome-trimmed grille. It also is as strong and durable as a part made from all-virgin material, and it meets all impact and load requirements. GMC only uses parts made from sustainable materials if they meet the same high standards as parts made from virgin material.

Terrain's sustainable attributes extend to recycling some of the post-industrial scrap produced from making the sound absorber in Terrain's doors and mixing it with used tires to make air baffles on GMC's Sierra pickup trucks and Yukon sport utility vehicles.

Terrain, like all GMC vehicles, is at least 85 percent recyclable by weight, with recycled steel accounting for the greatest contribution. In fact, according to the U.S. Environmental Protection Agency (EPA), automobiles are among the most-recycled consumer products, with more than 95 percent of all end-of-life vehicles in the United States processed for recycling – compared to 52 percent of all paper and 31 percent of all plastic soft drink bottles.

According to the EPA, auto recyclers supplymore than one third of all ferrous material to the U.S. scrap-processing industry. When auto manufacturers like General Motors use scrap iron and steel instead of newly produced ore, they reduce air and water pollution by more than 50 percent during the vehicle manufacturing process.