Clariant showcases new dimensions in Denim Process at Kingpins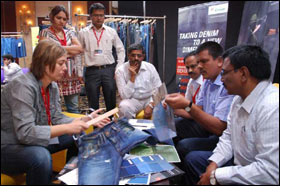 The Textile Chemicals Business of Clariant Chemicals (India) Limited showcased its eco-efficient Pad/Sizing-Ox denim processes, one of the groundbreaking innovations developed under Clariant's Advanced Denim concept, at the Kingpins India Denim Show, which concluded in New Delhi last week. The key talking point was Clariant's focus on more colors, more performance and more sustainability with help take denim to a new dimension altogether.

Advanced Denim Concept: Clariant's Advance Denim concept sets a new benchmark in denim production that unites technological and ecological advances with new and exciting fashion effects. Compared with conventional denim production, Clariant's unmatched Advanced Denim technology is simpler, more versatile and opens the doorway to undreamt-of opportunities. And when it comes to environmental compatibility, Clariant's trailblazing new technology raises the bar to a new level.

Effectively, Advanced Denim combines the advantages of unprecedented fashion flexibility with more sustainable, eco-efficient manufacture to create a win-win situation for producers and consumers alike. So whether you make jeans, sell them or simply love wearing them, Clariant's Advanced Denim will change the way you think of them in ways you never thought possible.

Our Package Concept: The result of an ongoing development and innovation process, Clariant's new sulfur dye-based concept combines the advantages of extraordinarily high performance with an outstanding ecological profile that complies fully with the latest environmental requirements. The new Clariant specialty Diresul RDT Indicolor dyes, for example, enhance denim's look and feel, add a vast range of new shades and wash-down effects, and create smart finishes that leave indigo-based denims trailing behind.

Denim-Ox, another Advanced Denim innovation, is a compact, versatile dyeing process that can be adapted to any equipment and mechanical conditions. In this process, the dye is fixed using oxidation/fixation and requires no previous washing. The process fixes the dye firmly and saves significant quantities of water. A package process comprising Diresul RDT, Reducing Agent D, Diresul Oxidant BRI and Direfix SD liq makes dyeing possible. The Pad/Sizing-Ox process takes Denim-Ox technology a step further. The combination of Diresul RDT and the innovative Arkofil DEN-FIX p sizing agent means it is now possible to dye yarn in sizing machines with outstanding ecological and technological features. This revolutionary, eco-efficient dyeing process is remarkable in that it uses practically no water, generates no waste water and minimal cotton waste, and consumes minimal energy. In essence, it means maximum results with minimum resources."

Mr. P Rajasekaran, Head of Textile Chemicals Business of Clariant in India explained, "Clariant India is committed to the denim segment and would like to have a more active role. The Kingpins Denim Show has been a platform for that objective.