Birla Acrylic promotes Anti-Pill Fibers at Glam and Glitter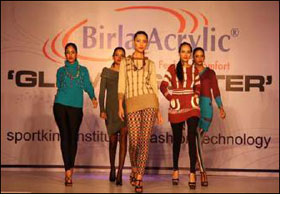 GLAM n GLITTER, 2011 Fashion Show was very successfully sponsored by Birla Acrylic (ADITYA BIRLA GROUP) for the second consecutive year with the organizers Sportking Institute of Fashion Technology, on 29th May'2011 at Ludhiana, India.

When clothes come with Birla Acrylic Fashion and Elegance follows naturally…

Birla Acrylic is a part of the Aditya Birla Group (ABG), a US$ 30 billion global conglomerate. The acrylic fiber business of ABG is presently the 5th Largest in the world with a total production capacity of 146,000 MT perannum approximately. There are two acrylic fiber manufacturing plants- Thai Acrylic Fiber (in Thailand) and Alexandria Fiber Co. SAE (in Egypt). Birla Acrylic produces a range of products serving both commodity and specialty high end markets. Products are being exported to Asia, Africa, Australia, Middle East, Europe, Turkey, USA etc. The group plans to become the 3rd
largest producer of Acrylic Fiber in the world by 2012.

Last year, Birla Acrylic had launched its range of anti-pill fibers and its end products in India at GLAM n GLITTER, May 2010. Since than Birla Acrylic anti-pill products have successfully penetrated the Apparel and Fashion sector in India and other export markets. GLAM n GLITTER'2011 is targeted to reinforce position of Pilbloc in the market and strengthen its customer base in India.

Honorable Mr. A.K Maheshwari, CEO of Acrylic Fiber Business of Aditya Birla Group with around US$ 450 million turnover, graced the occasion as the Chief Guest.

The students of SIFT mesmerized the audience with their innovative creations showcased by charismatic and suave boys who sashayd on the ramp with graceful and vibrant girls who walked the ramp with panache and left the audience spell bound.

Mr. Amit Dayal, Head of Marketing, Acrylic Fiber Business of Aditya Birla Group took the audience through a brief presentation on the Pilbloc fibers the next generation
anti-pill fiber from Birla Acrylic.

Pilbloc fibers from Birla Acrylic has been developed using a special technique to reduce "pilling" over repeated usage. Pilbloc fiber will slow down "pill" formation in garments and subsequently slow down apparel ageing. These fibers have been engineered to have a sustainable anti-pilling performance throughout the life-time of a garment. Products made out of Pilbloc fibers have been tested and proven by several international accrediting agencies. Pilbloc fibers deliver pilling performance of 4-4.5 grade in ICI Pill Box Test Method. These fibers will give a silky soft touch and feel to the skin.

Pilbloc is a guarantee for anti-pilling performance throughout the lifetime of the garment since the anti-pilling properties are not obtained by chemical means.

Spinners make Low Pill and Super Soft (LPSS) Acrylic Yarn by using Pilbloc anti-Pill fibers from Birla Acrylic. Such kind of yarn is very popular in Indian market and attracts good premium. Birla Acrylic will soon come out with a full range of brand promotion activities with Pilbloc which will include testing, certification and tag distribution.