The fashion industry has faced some significant challenges in the year 2019; sustainability is the biggest of them. In recent decades, sustainability has become the buzzword in the apparel and fashion industry. Web searches for Sustainable Fashion have increased by 66 percent since 2018, according to Lyst.
By the year 2030, the fashion industry is predicted to increase its water consumption by 50 percent, and its carbon footprint will increase to 2,790 million tons while fashion waste is predicted to hit 148 million tons, according to the Copenhagen Fashion Summit. Scary. Isn't it?
The situation can get worse if consumers don't change their fashion habits in the coming years.
Although the fashion industry has shown some seriousness towards sustainability in the recent decade, and the power is with consumerism.
Below-listed are some fantastic ways to make the fashion industry more sustainable in the year 2020.
Second-hand Shopping
The most trending fashion of today's time is Second-hand fashion.
"The second-hand clothing market valued $24 billion as of 2018 and projected to hit $64 billion in the coming decade, reported by ThredUp." Click to Tweet
Millennials are chasing second-hand shopping like never before. And this has made brands and retailers move towards second-hand clothing. In the world full of fashion trends, second-hand shopping has some unique and vintage styles to standout trends.
Smart shoppers are making their choice sustainable by picking second-hand clothes and accessories. In the coming year 2020, the second-hand clothing market will be worth staggering with a value of $ 32 billion. And it's set to reach the value of $51 billion by 2023. Second-hand clothing is growing impressively across the globe.
On-Demand & Custom Clothing
The current fashion trend is Custom clothing. Consumers are moving towards on-demand and custom clothing as its unique, customized, fashionable with amazing fits.
Brands and retailers are personalizing the entire shopping experience to get closer to the customers. In the era of consumerism, consumer choices matter the most – consumers are choosing personalization. Brands and designers are continuously working to improve the customers' experience with customized shopping.
Eco-conscious consumers are choosing customized clothing over mass-production to save natural resources, raw material, and support ethical and sustainable fashion. Discover the best of your sustainable styling with personalized clothing. In recent years, the demands of customized clothing have shown immense growth. And the market of customized clothing is ready to boom in the coming year 2020.
Read more on: Rising Demand for Customized Clothing
Fair & Ethical Fashion
In the fashion world, consumers are choosing fair and ethical fashion. Both Fair and ethical fashion go hand-in-hand. The fashion industry has always been hurtful for animals, labors, and the planet.
Today's fashion is choosing veganism, eco-friendliness, sustainability, and socially right clothes. Brands are innovating new ways every day to make fashion more ethical and cruelty-free. Consumers are moving towards the brands that serve them the best quality without comprising on animals, labor rights, and the planet during the manufacturing process. Conscious customers are interested in the history of their picks- what? Why? And how?
Brands are manufacturing clothes keeping their consumers' choices into consideration. With fair and ethical fashion, brands are moving towards vegan and sustainable way. Consumers are choosing fair and ethical fashion to preserves traditional craft and make their clothing more sustainable. Brands, consumers, and even the government is taking many initiatives to make the fashion industry wholly fair and ethical with the transparent supply chain. And in the year 2020, ethical fashion will be a fashion regulation.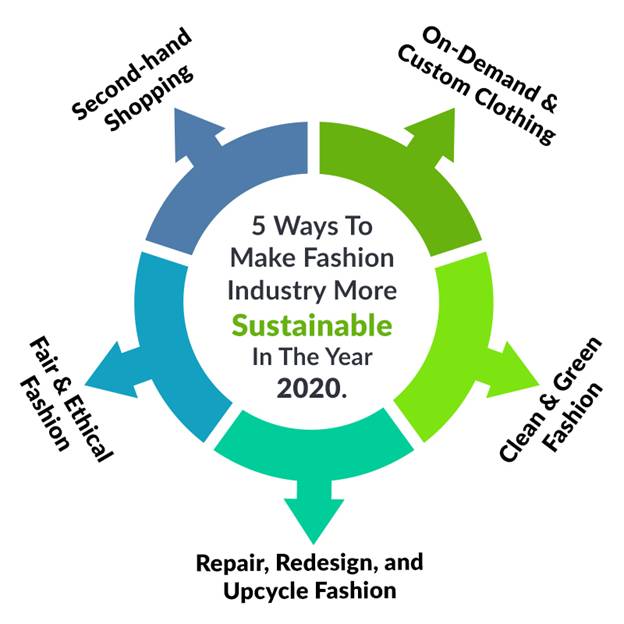 Repair, Redesign, and Upcycle Fashion
In the industry full of options, repairing, and redesigning is the trendiest fashion. Not only consumers, but even brands and retailers are also following the 5 R's of fashion – Reduce, Repair, Recycle, Repurpose, and Reinvent.
Brands are improving overall customer experience by providing guidelines to ensure that their purchase lasts for long. Some brands are offering repair facilities for their clothes.
Beyond repair – They are redesigning. Clothes that cannot be repaired can get recycled or redesigned. In recent years, brands have taken many redesigning initiatives to give old's an entirely new look. This way, the fashion industry in saving on raw material and natural resources. Moreover, brands are also aiding to manage fashion waste and make the industry more sustainable.
Upcycle fashion uses either pre-consumers and post-consumers wastes to manufacture new products. The process reuses old clothes without going through the recycling process.
The fashion industry is going to be more sustainable with repaired, redesigned, and upcycled fashion.
Read more on Recycling and Upcycling In Apparel Industry
Clean & Green Fashion
Fashion is among the most polluting industries across the globe. From planet to animals – the industry is hurting all. And that's why it becomes vital to make the production clean and green.
In the era of consumerism, destructive fashion is no more acceptable to consumers. Consumers are dressing for the planet by prioritizing eco-fashion.
Sustainability sets the focus on the future. Green fashion is contributing to keep the planet clean and a better place to live. Consumers love green clothing with minimal effect on the environment. The products made from renewable resources are counted as green. Whereas, clean implies – natural or synthetic, which are not harmful to our health. Non-toxic products are free from ingredients. And hence, they can improve the health of the Earth and Earthians.
Consumers are embracing clean and green fashion to make the industry more sustainable in the coming years.
Wrap Up: These fives trends are leading the fashion industry towards a sustainable and friendly future. The year 2020 is all set to make the fashion industry more sustainable than 2019. Brands and consumers are embracing new ways to make fashion sustainable. Consumers are getting smarter with smart technologies, and brands are ready with their sustainable innovations to boom in the coming years.
Know more about sustainability here.