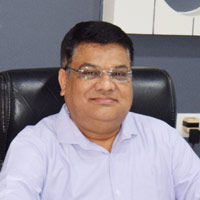 Dharmendra Shah
Managing Director
Ozone PB Spintex Limited

Company Details
Business Area:
Spinning - Counts: 20s to 40s Ne; Twist: S or Z; Type: Combed, Carded, Compact, Eli Twist; End Use: Weaving, Knitting; package: Conical, Cylindrical, Dye tubes; Cotton: Indian, Imported, Organic, BCI
How has the Indian spinning industry fared in the last two years? What measures can ensure a healthy spinning industry in India?
The spinning industry, as a whole, could not perform well in terms of finances in the last two years.

The main challenge facing the Indian yarn industry is so-called "over supply". Most spinners have panicked, and want to sell their production without looking into actual costs. The spinning community should quote higher prices considering actual cost and a reasonable margin without worrying about orders. They should stop selling at low prices, and stop unnecessary competition among themselves.

China is not the only market for our yarn. In fact, our biggest competitor - Pakistan - recently emerged as a major buyer for our yarn. This shows that our yarn is really cheap. We need to look again at our export prices.

We have made huge investments to ensure quality yarn production. A typical yarn manufacturing unit of 25,000 spindles asks for an investment of approximately Rs 95 crore. Rising labour costs and shortage of skilled labour also pose a serious problem in operating a spinning mill.

Under such circumstances, a healthy yarn industry can only be ensured by maximum exports and government control in the form of minimum export prices. This is to be further supported by export incentives and free trade agreements with various countries for duty free access.

I believe that export policy should be amended by the government which should also fix minimum export prices according to the count, in consultation with a committee. This committee will review the same periodically.

Additionally, switching to value added products can save spinning mills. Ozone PB Spintex has such plans. Our plans include forward integration. We plan to introduce new products like Eli twist in coarse counts, core spun yarns, dual core and compact slub.

We expect 2016-17 to be above average for the Indian spinning industry, and the good period to start thereafter.
Published on: 21/04/2016
DISCLAIMER: All views and opinions expressed in this column are solely of the interviewee, and they do not reflect in any way the opinion of Fibre2Fashion.com.