ECO SWIM BY AQUA GREEN attends Funkshion Fashion Show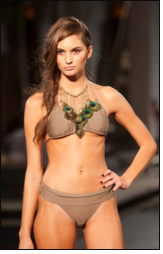 ECOSWIM BY AQUAGREEN, a sustainable swimwear brand utilizing innovative technology to help reduce their carbon footprint, attended the Funkshion Fashion Show in Miami Beach, Florida. The event, which showcases diffuse designers and innovative brands, concluded with a show by ECOSWIM BY AQUAGREEN.

ECOSWIM BY AQUAGREEN, a brand of sustainable swimwear that uses recycled materials in its garments, attended The Funkshion Fashion Show in Miami Beach, Florida. The 4 day/evening long show was dedicated to providing a platform for progressive and emerging designers to showcase their collections.

The show was hosted against the backdrop of the Miami Setai Hotel and the Miami Design District's Moore Building and is known for introducing emerging designers and innovative fashion houses to the world. For 8 years (and 17 seasons), the show has fused fashion and music like food and wine—the music complements, highlights, and, indeed, brings out the best in the collections.

At this year's Funkshion Show, held from October 18-22, ECOSWIM BY AQUAGREEN concluded the event by leading a "Funkshion Goes Green" show on Saturday evening in conjunction with the Society for Environmental Journalists (SEJ), an organization dedicated to increasing public understanding of environmental issues through journalism. SEJ presented several journalists with awards for environmental reporting on the runway before the show.

ECOSWIM BY AQUAGREEN is known for its slimming and stylish designs. In fact, the brand scouts for new designs and embellishments through annual trips to European fashion capitals. But the brand has made a commitment to doing much more than making women look and feel great at the beach. Since the brand's inception, it has incorporated innovative, upcycled materials into each of its bathing suits.

"We were the first swimsuit brand to source sustainable, recycled fabrics for our bathing suits," says Alex Waldman of ECOSWIM BY AQUAGREEN. "Instead of letting things like plastic water bottles, carpet fibers, and fishing nets head to a landfill, we give them a new life as stylish, slimming, and fun-to-wear swimsuits."

Additionally, the brand has also gone to great measures to reduce waste in their facilities since long before sustainability was in vogue. No piece of fabric is cut without first being planned out so as to maximize the usable material.

"Using software, we arrange the patterns so that the computer cuts and minimizes waste. Once fabric is cut, it can no longer be reused in garments of the same quality, so we make sure to minimize our waste to the greatest extent possible," says Waldman.

ECOSWIM BY AQUAGREEN's efforts to reduce their carbon footprint go beyond their manufacturing processes alone. They've implemented industry-leading recycling programs in their Easton, PA facility that have helped foster a company culture of environmental awareness.

"We found that employee engagement with our recycling programs has been easier to foster than we could have hoped, and are proud to see our employees making a concerted effort to reduce their waste during the work day," says Waldman.