Fashion brand Anupamaa goes global with ecommerce portal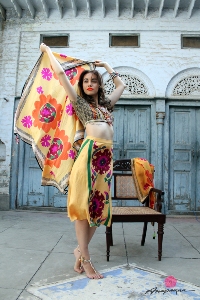 A brand known for its global, traveler-vibe, Anupamaa Dayal has long been a favorite for people on the go. With the inherent inspiration being the ancient, almost forgotten hand printing and needle - craft techniques in India, the collections have been a portrayal of vintage meets bold and western.
In a venture to personalize the experience for existing and prospective clientele, the brand now goes global with www.anumapaa.com. This e-commerce project has been launched to reach the wider and more global audience.
Their collection has always been proclaimed for their artistic look and her unusual use of colour. The print stories are often eclectic and the philosophy preached as organic.
Speaking about the new venture, the designer Anupamaa Dayal said, "The brand ANUPAMAA has always gone across geographical and cultural boundaries. We are delighted to announce that we are now live with our brand new e-commerce website! "
Anupamaa