New book by Fashion consultant Renato Palmi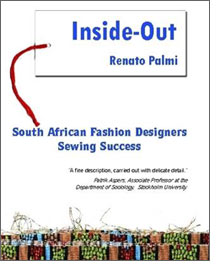 The South African fashion consultant Renato Palmi, who manages a specialist research and development consultancy called The Redress Consultancy, has published a new book titled ' Inside-Out: South African Fashion Designers Sewing Success'.

The book navigates through the unexplored, but budding industry and acclaims the role played by the local fashion designers to the growth of the South African fashion industry.

He also writes that the designers have circumvented massive challenges to establish feasible business in the face of a highly competitive environment.

The book is an all-inclusive study on the independent designers of South Africa and the encouragement the industry receives from the fashion shows. The book takes its readers from the past to the present on the developments within the South African Clothing industry in the last few years.

The author has written well to put the point across of the implementation of the quotas on Chinese garment imports. The same has been acclaimed by Professor Patrik Aspers, Stockholm University, as 'A fine description, carried out with delicate detail, the China link in my opinion is interesting'.

The author provides a vivid description of an industry that is plagued by self opinionated designers, wrong policies and the consumer who is price conscious. Gavin Rajah the fashion designer of repute in his comments on the book has rightly commented 'An informative and interesting read in terms of the current state the industry is in.'

Inside-Out could be an important reference book for the fashion industry, which includes upcoming fashion designers and fashion retail outlets. The book can also be used as a reference for future policy making decisions related to the industry by the government and association bodies.