Lebanese 'Living...Energy' to come in New York City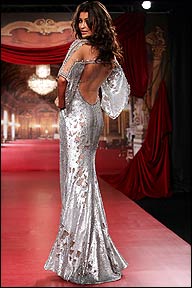 Dynamic fashion designer Jean Fares will present his latest collection of inspired evening couture creations on Friday February 8, 2008 in the ballroom of the elegant Westin Times Square in New York City. Part of Couture Fashion Week, Mr. Fares's new collection is entitled "Living...Energy" inspired by the ideal wearer of his designs: a dynamic, charming, thrilling and energetic woman.

Since establishing his own fashion house in 1992, Jean Fares has become known for his elegant color combinations and innate sense classic style. His couture bridal and evening creations are favored by an exclusive clientele in the Middle East. His previous collection, "Living-Eco", featured an impressive array of beautifully crafted designs.

Mr. Fares has done successful fashion shows in Paris, including the Hydra Pret-a-Porter event, and in Lebanon as well as other Middle Eastern countries such as Egypt, Qatar, Saudi Arabia and the UAE. In 2007, he did a series of fashion shows in the USA in Miami, Houston and Washington D.C. before enthusiastic audiences of dignitaries and VIPs. Mr. Fares has designed evening gowns for a number of top beauty contestants including Miss Lebanon 2004 and Miss World Supermodel 2002, as well as for singer Shada Hassoun, winner of the 2007 Star Academy final (the American Idol of the Arab world) who has become a symbol of unity and goodwill in war-torn Iraq.

"Jean Fares's creations are of the highest caliber, like so many other gifted couturiers from his part of the world," notes producer Andres Aquino. "We are fortunate to have him participating in Couture Fashion Week this season and look forward to an extremely enthusiastic reception from our audience."