Middle East imports 26 tonnes of jewellery from Italy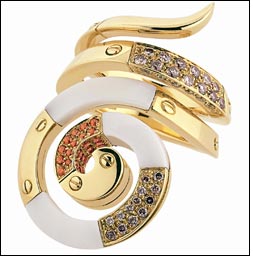 Over 1,600 leading manufacturers of gold jewellery from Italy and across the globe converged on the much-anticipated winter edition of The Vicenza Fair.

Now repositioned as First, the initial offering of The Vicenza Fair for the year, the international jewellery trade event is regarded by industry trend spotters as the barometer for design trends in the market.

First, which covered almost 67,000sqm of exhibition space and spanned over 24km, showcased fine jewellery from top global brands as well as jewellery houses from at least 30 countries including those from the Middle East, for the first time!

Moaz Barakat, Managing Director of World Gold Council in the Middle East, Turkey and Pakistan and a keen observer of the fair, commented, "Now more than ever, quality and design play definitive roles in the jewellery choices made by consumers from all key market segments.

This is part of the continuing evolution of the luxury sector which dictates the overall direction being taken by the jewellery industry.

There is now greater demand for highly differentiated products not only in terms of the intrinsic qualities of jewellery but also the overall message it communicates."

In association with Fiera di Vicenza, the organizer of The Vicenza Fair and AngloGold Ashanti, the world's second largest producer of gold, World Gold Council champions the use of gold in jewellery and promotes the creation of greater value for the precious metal.

Every year, it assembles some of the best Italian jewellers to come up with a gold jewellery collection under the super brand, Gold Expressions, which is annually exhibited at The Vicenza Fair which thereafter tours all key markets worldwide.

The Middle East will again be the first to launch the collection after its debut at Vicenza Fair. The output of this leading initiative has become a benchmark for gold jewellery design and craftsmanship worldwide.

The steady gold price hike did not hinder the range of design possibilities presented during the eight-day exposition.